Which 4-H events is Delaney Dieker going to compete in at this year's Douglas County Fair?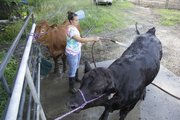 Cactus garden, duct-tape project, flowers, arts and crafts, steers, cow and calf pair, swine, jellies and jams.
What about baking?
"Oh yeah, that, too," Dieker, 17, says at her home near Clinton Lake, clearly having trouble keeping track of all the projects — many scattered around her kitchen — in which she's involved.
This time of year is not about relaxation for many area youth like Dieker, it's 4-H time.
"Working like every night," said fellow 4-H member Chris Berg of his preparations for the events. Berg, 18, who will start at Kansas State University this fall, has his own long list of events he'll be competing in: swine, sheep, beef, dogs and "some other little things."
The busy days and weeks preparing will be followed by seven days full of activities for area 4-H members, with the bulk of the events this year beginning Aug. 1 and running through Aug. 7.
But it's all worth it, say Dieker and Berg.
The two have known each other for about a decade through their work in 4-H, and Dieker says spending time with friends and meeting new people is the best part of the program. Putting aside a little money for college is a bonus, as well.
In her years in 4-H, Dieker has socked away nearly $10,000 for college from the animal auctions. Money that she plans to use to go to either Kansas University or Wichita State University.
Berg, on the other hand, has trouble picking just one "best part" of being involved in 4-H: "Learning all the life skills and lessons, the leadership, helping little kids."
Copyright 2018 The Lawrence Journal-World. All rights reserved. This material may not be published, broadcast, rewritten or redistributed. We strive to uphold our values for every story published.