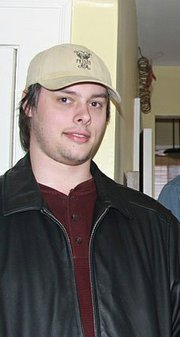 Authorities who are investigating a missing persons case involving a Tonganoxie man say they have no new leads.
Tonganoxie police Lt. Billy Adcox said law enforcement officials continue to work on the case of Luke Stevens, 23, who last was seen at his Tonganoxie home May 26. Earlier reports stated that his 1983 dark blue Chevrolet truck was found a week later at Longview Lake, which is near south Kansas City, Mo., in Jackson County. His mother, Joyce Stevens, said Tuesday that his truck first was discovered at the lake May 27.
The family released Stevens' two cell phones to Tonganoxie police, but Adcox said analysis of the phones' call history was inconclusive.
A $1,000 reward is being offered for information that leads to finding Luke Stevens. He is 6-foot-5 and weighs about 250 pounds. Anyone with information is asked to call Tonganoxie police, (913) 845-2311.
Copyright 2018 The Lawrence Journal-World. All rights reserved. This material may not be published, broadcast, rewritten or redistributed. We strive to uphold our values for every story published.