Scott Bloch, the former head of the Office of Special Counsel under President George W. Bush, faces a federal judge this week to determine his sentence for criminal contempt of Congress.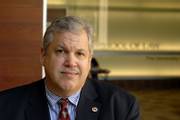 Bloch, a former Lawrence attorney, could be sentenced to six months in prison and a $100,000 fine for withholding information from a U.S. House committee. Federal prosecutors have said they will not oppose a sentence of probation if it includes a $5,000 fine and Bloch completes 200 hours of community service.
Bloch is scheduled to be sentenced Tuesday before U.S. Magistrate Judge Deborah Robinson in Washington, D.C.
Bloch was the director of the federal office that is in charge of protecting whistleblowers from unfair treatment.
Federal prosecutors accused Bloch of failing to truthfully answer questions about whether he arranged in 2006 to have several office computers deleted of information while he was being investigated for retaliating against employees.
Bloch had been a target of critics who said he closed hundreds of whistleblower cases without investigating them. Bloch defended himself, noting in his resignation letter that he had cut through a backlog of cases.
In 2005, Log Cabin Republicans, a national organization representing gay and lesbian Republicans, started a campaign to oust Bloch after he said he lacked authority to protect federal employees from discrimination based on sexual orientation.
Bloch announced in October 2008 that he would leave office. In April he pleaded guilty to criminal contempt of Congress.
Copyright 2017 The Lawrence Journal-World. All rights reserved. This material may not be published, broadcast, rewritten or redistributed. We strive to uphold our values for every story published.