Tony Parker had just one word to describe the opportunity to play kickball with some of the Big 12's most promising athletes: Fun.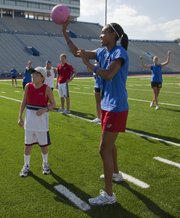 On Saturday afternoon, the 24-year-old Special Olympics athlete stood on the green turf of Memorial Stadium and rolled the kickball to the opposing team.
"We would drop anything to do this," Barb Parker said of her son's love of interacting with college athletics. "This is a first priority."
And that was even with Saturday's oppressive heat. Parker was among the 35 or so Special Olympics athletes who had the opportunity to play the school yard favorite with 48 student-athletes at the Big 12 Special Olympics Kickball Classic at Memorial Stadium.
While Saturday's kickball game was fun for Parker, for the student-athletes it was just another way to hone their leadership skills.
For the first time ever, four students from each of the conference's schools were selected to attend the Big 12 Leadership Summit, where athletes checked the competition at the door and collaborated on how to become better leaders.
"It really wasn't about 'Hey, I'm from Baylor and you're from K-State and you're from KU and Missouri,'" KU assistant athletic director Mike Harrity said. "It's about 'Hey, we have this shared experience, we are all student-athletes, we all have dreams, we all have hopes and we all have goals. And how can we help each other and support each other and try to achieve those things?'"
Saturday's kickball game was just one of many activities during the weekend summit, which also included workshops, seminars and a speech from KU track star and Olympic gold medalist Billy Mills.
Another KU track and field alumnus helped bring the Big 12 leadership conference to fruition.
Matt Baysinger was chair of the Big 12 Student-Athlete Advisory Committee in 2007 when the proposal was put forward.
To see the idea in action three years later was "awesome" for Baysinger, who now works at KU Athletics.
Among the skills that wide receiver Daymond Patterson will take back to the KU football team is how to be a better communicator.
"Just getting out of your comfort zone, and being open with yourself and your teammates, and just letting everyone know your side of the story, but also listening to their story. That is the big thing about being a leader that we have learned," Patterson said.
Copyright 2018 The Lawrence Journal-World. All rights reserved. This material may not be published, broadcast, rewritten or redistributed. We strive to uphold our values for every story published.