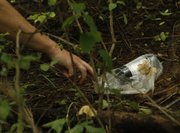 Thanks to technology, treasure hunting is not as hard at it used to be.
But that doesn't take the fun out of geocaching, a game in which participants use GPS to hide and seek caches that are hidden throughout the world. It is an activity for adventurers and explorers as well as families and beginners.
"I can't believe I pass by this every day and didn't know it was there," said one online geocaching participant after making a find in Lawrence.
Several thousand caches are hidden throughout Kansas, with hundreds in and around Lawrence. The caches, which usually take the form of Tupperware, capsules, boxes or other small containers, can be filled with a variety of items.
Typically, the caches will have a logbook that has information from the maker of the cache and notes from visitors, but they may also have treasures the owner left behind.
"We found 43 caches today in Topeka and Lawrence," a participant posted on a geocaching website on June 30.
Caches are usually placed in parks or landmarks. Robert Wilson, of Lawrence Parks and Recreation, said there are probably around 20 caches in city parks.
The game is fairly open and left to the creativity of the participants, but the main rule is to replace anything you took from the cache so that the other treasure hunters can participate as well. Participants should also log the experience at geocaching.com.
Hunters who want to hide their own cache in a city park must fill out a free registration form with the Parks and Recreation Department, which will provide information about the owner, the cache, location and description.
Wilson said the game is a great way to get people to visit parks and learn some history about the site.
"It shows them a little bit of Lawrence and gives them another reason to appreciate the parks," Wilson said.
The popularity of the game has picked up since it began in 2000. Activity has stayed steady in Lawrence since the city joined the game in 2005.
Prairie Park Nature Center will offer classes about geocaching. The first has been rescheduled for July 25. Marty Birrell, nature education supervisor, said students will have the opportunity to learn about GPS units and participate in a recreational activity.
"People like to use technology, and this is a way for them to explore technology and participate in a fun, treasure-hunting activity," Birrell said.
Birrell said three caches at the Nature Center are visited often. She said it is a popular activity because families can enjoy it as well as individuals. Anyone interested in enrolling in the class can call 832-7980.
Copyright 2018 The Lawrence Journal-World. All rights reserved. This material may not be published, broadcast, rewritten or redistributed. We strive to uphold our values for every story published.