Miami — Elderly Russian immigrants lined up to take kickbacks from the backroom of a Brooklyn clinic. Claims flooded in from Miami for HIV treatments that never occurred. One professional patient was named in nearly 4,000 false Medicare claims.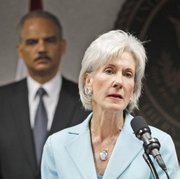 Authorities said busts carried out this week in Miami, New York City, Detroit, Houston and Baton Rouge, La., were the largest Medicare fraud takedown in history — part of a massive overhaul in the way federal officials are preventing and prosecuting the crimes.
In all, 94 people — including several doctors and nurses — were charged Friday in scams totaling $251 million. Federal authorities, while touting the operation, cautioned the cases represent only a fraction of the estimated $60 billion to $90 billion in Medicare fraud absorbed by taxpayers each year.
For the first time federal officials have the power to overhaul the system under Obama's Affordable Care Act, which gives them authority to stop paying a provider they suspect is fraudulent. Critics have complained the current process did nothing more than rubber-stamp payments to fraudulent providers.
"That world is coming to an end," Health and Human Services Secretary Kathleen Sebelius told The Associated Press after speaking at a health care fraud prevention summit in Miami. "We've got new ways to go after folks that we've never had before."
Officials said they chose Miami because it is ground zero for Medicare fraud, generating roughly $3 billion a year. Authorities indicted 33 suspects in the Miami area, accused of charging Medicare for about $140 million in various scams.
Suspects across the country were accused of billing Medicare for unnecessary equipment, physical therapy and other treatments that patients never received. In one $72 million scam at Bay Medical in Brooklyn, clinic owners submitted bogus physical therapy claims for elderly Russian immigrants.
Patients, including undercover agents, were paid $50 to $100 a visit in exchange for using their Medicare numbers and got bonuses for recruiting new patients. Wiretaps captured hundreds of kickback payments doled out in a backroom by a man who did nothing but pay patients all day, authorities said.
Cleaning up Medicare fraud will be key to paying for President Barack Obama's proposed health care overhaul. Federal officials have allocated more money and manpower to fight fraud, setting up strike forces in seven cities with a plan to expand to a dozen more.
So far, the operations are responsible for more than 720 indictments that collectively billed the Medicare program more than $1.6 billion.
Copyright 2018 The Associated Press. All rights reserved. This material may not be published, broadcast, rewritten or redistributed. We strive to uphold our values for every story published.