Photo Gallery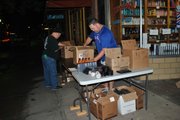 2010 Sidewalk Sale Photos
2:39 p.m. update by Whitney Mathews
I'm back from my first ever sidewalk sale experience. Though some say the best deals are gone by late morning, I was able to purchase five items for $21 (one buck over my self-imposed budget).
Yellow halter dress $6
Flower ring (gift for a friend) $5
DVD of Chris Rock's "Good Hair" $5
Small bottle of perfume $2
Tube of fancy hand creme $3
It's uncomfortably hot outside and people are still packing the sidewalks. Make sure you wear sunscreen and stay hydrated!
1:58 p.m. update by Christine Metz
With the help of the Billy Ebeling Band, the noon crowd was jamming at the sidewalk sale.
The quickly warming temperatures kept the folks from the Clinton Parkway Assembly of God busy handing out water at their tent. By 12:30 p.m., they had already gone through 2,500 bottles of water and 1,000 cookies.
Also still a hot spot was Urban Outfitters. Lines weren't around the block like they were at the start of the morning, but shopper were still finding deals.
With one hand full of bags, Molly Beedles was browsing through the racks. She had already been to the Gap to take advantage of the $3 T-shirt sale.
She had saved her money to do some major clothes shopping today.
"Just because I can't afford it any other time of year," Beedles said.
For those that needed a break from shopping, The Fix Salon was giving away free 10-minute messages. Wait times were about 30 minutes, owner Dana Reed said.
1:53 p.m. update by Janet Reid
Gas service has been restored to 31 customers who lost their supply when Westar Crews struck a 2-inch gas main near downtown Thursday morning.
Seventh Street was opened to traffic in both directions as of 2 p.m.
1:14 p.m. update by Whitney Mathews
I've never been to the sidewalk sale and, like many of you, the only time I can leave the office to check out deals is during my lunch break. So I'm giving myself one hour starting at 1:30 p.m. to see how much stuff I can buy with a $20 bill. Updates to come...
11:22 a.m. update by Whitney Mathews
Christine Metz reports via Twitter that authorities are keeping westbound Seventh Street shut down for several more hours due to the gas leak.
11:13 a.m. update by Christine Metz
Sidewalk sale shoppers were briefly interrupted during a gas leak. Gillian Johnston stood with six-year-old Addison London outside of Claire's Boutique waiting for the store to reopened after a gas leak nearby.
Addison had just gotten her ears pierced and wanted to buy earrings.
They had been waiting less than five minutes when customers were allowed back in at around 11 a.m. At the same time, doors opened to Cold Stone Creamery next door.
11:06 a.m. update by Whitney Mathews
Seventh Street has been reopened and employees have returned to Claire's and Cold Stone.
10:40 a.m. update by Whitney Mathews
Seventh Street from Vermont to Massachusetts is closed to foot and vehicle after Westar Energy crews accidentally drilled into a gas line. Authorities are asking pedestrians to leave the area and have evacuated Starbucks, Cold Stone, Claire's and Talbots. Keep checking LJWorld.com for updates.
10:11 a.m. update by Christine Metz
For ten years, Heidi Simon has lived in Lawrence and heard about the deals to be had at the sidewalk sale. This year, she woke at 4:30 a.m. to find out herself.
Arriving with the crowds at 6 a.m., Simon was impressed with what she saw.
"It's my first sidewalk sale. It is kind of intense," she said.
With 30 minutes of shopping left, Simon had bags full with running shoes and clothes.
"I've never been much of a shopper, but its worth it," she said.
See where Christine is headed next at today's Sidewalk Sale by following her on Twitter @christinemetz.
9:08 am. update by Christine Metz
The early bird got the sales and beautiful weather at today's downtown Lawrence Sidewalk Sale. An early morning thunderstorm meant a cool breeze and temperatures in the low 70s at the start of the sale, which was perfect for those scouring Massachusetts Street for the best deals of the year.
Gene Nutt, owner of Game Nut, said that the streets were so busy at 6 a.m. it was hard to set up his tables, which offered $3 used DVDs and video games.
"It was super packed right from the start," he said.
Now, the crowds have quieted down some.
"Now, it's about the same (as previous years)," he noted.
See what deals Christine's finding next by following her on Twitter: @christinemetz.
8 a.m. update by Christine Metz
Before 6:30 a.m., Sunflower Outdoor and Bike Shop was a buzz with shoppers as employee Wade Veazey announced deals over the bullhorn sitting atop a lifeguard stand, part of the store's sidewalk sale tradition. Among the offerings, half-off Camelback water bottles and 30 to 40 percent off boats.
There were plenty of other good deals found. KU hats were on sale for $5 at LIDS. Beanie Babies were selling for $2 at Prairie Patches.
And for those looking for something a little less ordinary, you could buy two books and a record on the "Living Method Short Hand Course" for a $1 at the Antique Mall.
"I figure someone with a sense of humor will buy it," said Phyllis Shanks, who had a booth outside the Antique Mall.
Also for a dollar, Shanks was selling the Nagging Wife Nutcracker.
Across the street, ACME was making what general manager Sean Conner described as "hot and fresh" T-shirts. For $7, shoppers could pick the design and color. ACME then irons on the print right there on the street.
ACME didn't get started until around 7:30 a.m.
"We're the slackers of the group," Conner said.
7 a.m. Updated by Joe Preiner
Being up early is nothing new for Richard Price, especially when it involves a good deal.
Price, a Virginia native, was up and moving before 6 a.m. Thursday trying to scout out the biggest bargains offered by downtown Lawrence businesses.
Price was not alone either, as a number of Lawrence residents, young and old, turned out before the 6:08 a.m. scheduled start time.
"I'd like to see some really good deals," Price said, coffee in hand. "But I know how these sales go. At least I've got my free cookie."
Price is one of thousands of people expected to pack the streets for the annual Sidewalk Sale. Local businesses from Sixth to 11th streets will offer their goods from sunrise to sunset, with the majority of the merchandise usually going quickly. More than 50 downtown businesses are planning to participate in this year's sale.
Brett Grady, an employee at Third Planet, 846 Massachusetts St., said the business that accompanied the annual event was easy on the store's bottom line, though coming into work early wasn't always as nice.
"It's not ideal but you gotta do what you gotta do," Grady said. "It's great for business in the summer, especially with the students gone."
The sidewalks slowly filled Thursday morning with people anxious to get their day of shopping started. According to most early-morning deal finders, that's when the best rewards are reaped. Jon Amyx helped set up shop in front of the Downtown Barber Shop, 824 Massachusetts St. at 5 a.m. He said the whole process only took 20-30 minutes.
"You kind of have to scramble," Amyx said. "People will just start grabbing stuff. We were almost sold out by 5:30 a.m. last year."
This year's Sidewalk Sale started off a little slower, with several vendors citing the early rain as one possible cause.
And while the weather during the early hours was comfortable, the midday heat may be something to consider.
6News meteorologist Matt Elwell said temperatures are expected to rise with a high near 91 degrees this afternoon. There's a chance for scattered showers throughout the day, with the best chances coming after 8 a.m. and again in the midafternoon. Elwell said the humidity is also expected to hang around.
Win prizes
Those who choose to ignore the weather will not only have the opportunity to score good deals, they'll also have a chance to win money for their efforts. There are a few different ways to win:
• Enter to win $25 and $50 VISA gift cards by stopping by the Lawrence Marketplace booth near Ninth and Massachusetts streets. The booth opens at 7 a.m.
• Complete the trip set up on Gowalla for a chance to win a $50 VISA gift card. Learn how to use Gowalla here.
• If you're on Twitter, simply add #swsale to your tweets to be entered to win a $50 VISA gift card.
For more information on participating vendors and the contest rules, check out the Sidewalk Sale resource page at ljworld.com/swsale.
Those needing help getting to and from the sale can take advantage of the T's free rides. Regular service runs from 6 a.m. to 8 p.m. and routes 1,2,3,4,6,7 and 11 all travel downtown.
The Sidewalk Sale is scheduled to run from about 6 a.m. to around 9 p.m. Many stores stay open later.
Check back throughout the day for photos, videos and updates from reporters at the sale.
— Joe Preiner
Copyright 2018 The Lawrence Journal-World. All rights reserved. This material may not be published, broadcast, rewritten or redistributed. We strive to uphold our values for every story published.