Francis Jacobs still plays the piano.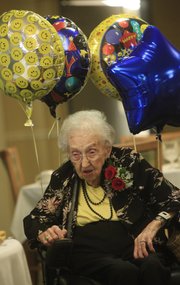 While celebrating her 106th birthday Tuesday, the Lawrence resident recounted teaching piano lessons until she was in her 70s. She occasionally plays during religious services in her living unit at Brandon Woods at Alvamar.
"I play for the church, that's it. I don't practice anymore," she said before having lunch with friends and family at Brandon Woods.
Francis sat under several birthday balloons and accepted greetings from friends. Staff members brought out a birthday cake for their oldest resident.
"It's pretty amazing. She's an amazing woman," said her son, Dr. Bud Jacobs, a Lawrence dentist. "She's never really been sick. Thank goodness she still has her mind."
Donna Bell, Brandon Woods at Alvamar public relations director, said Francis was not only the oldest current resident there. At 106, she's believed to be the oldest resident to ever live there.
Francis was born July 13, 1904, in Marble Falls, Texas. In 1934 she married Robert Jacobs. After a long career teaching piano lessons, she moved into independent living at Brandon Woods in 1990 and later moved into the Healthcare North unit.
On Tuesday, she had lunch with friends, her son and daughter-in-law, Sheryl Jacobs.
"I've had lots of phone calls, lots of flowers, lots of nice things. I ain't worthy," she said with a smile.
Copyright 2018 The Lawrence Journal-World. All rights reserved. This material may not be published, broadcast, rewritten or redistributed. We strive to uphold our values for every story published.