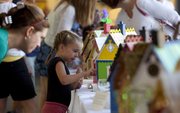 Twelve-year-old Ben Novorr's bar mitzvah project fizzled Saturday afternoon.
Dollhouses
From Harry Potter to Beatrix Potter with Jayhawks and wine corks in between, the dollhouses on display at the Lawrence Art Center this week offer a unique twist to the traditional toy.
For the first time, Douglas County CASA asked community members to take home kits and decorate the two-story dollhouses.
Diana Frederick, executive director of CASA, said she was impressed with the results. "We had no idea what to expect," she said. "It was just a neat surprise to see how diverse they are. Some people worked in teams and they just got into it so much."
CASA is inviting the public to stop by the arts center, 940 N.H., to view the dollhouses and cast their vote for the People's Choice Award. The dollhouses will be sold at a silent auction during the Casa for CASA Celebration fundraiser on July 17. The winner of the large CASA playhouse will also be announced during the event.
CASA, which stands for court appointed special advocates, matches volunteers with children who have entered the court system because of abuse or neglect. For more information about the Casa for CASA Celebration, go to dccasa.org or call 832-5172.
But it was the best kind of fizzle, as in the sound one hears when pouring root beer over scoops of ice cream.
With the help of his family, Ben set up a root beer float stand at Hy-Vee, 4000 W. Sixth St., to raise money for Douglas County Court Appointed Special Advocates for Children. While his younger brother Jon went through the store handing out fliers, Ben and his parents Barb and Jeff spent the afternoon making floats.
The proceeds will be used to help supply birthday bags and backpacks to children who are in the court system because of abuse or neglect.
"It is helping children, and I thought it would be good because I am a child," Ben said. "So it would be helping kids my own age."
The project started with a phone call Ben made to Hy-Vee asking for donations.
"(It) surprised me that they weren't surprised to hear from a 12-year-old boy," Ben said.
The store staff provided a spot right next to the front entrance and all the makings for the floats. They also helped Ben come up with a pricing structure: $2 for a regular float and $6 for a float that came with a Coca-Cola glass.
Saturday's stand wasn't the only fundraising Ben was doing for CASA. He also solicited businesses to help fill the birthday bags and backpacks.
Among his biggest concerns was that the birthday bags had party plates, but sometimes children in the foster care system couldn't use them because they didn't get a birthday cake.
So, he decided to do something to make sure they would.
"What are they supposed to put on the plates? Spaghetti?" he asked Eileen's Colossal Cookies.
The line worked. The business donated 100 giant cookies for the birthday bags. It was Ben's biggest score in the fundraising department.
"I am so fortunate because I get great gifts for my birthday. But these kids, a lot of times, are getting nothing," Ben said.
Diana Frederick, executive director of Douglas County CASA, said she wishes she could bottle Ben's charm and enthusiasm.
"He just has a way with people. I think it is hard for people to tell him no," Frederick said.
"I want to make him the head of our development committee," she joked.
Copyright 2018 The Lawrence Journal-World. All rights reserved. This material may not be published, broadcast, rewritten or redistributed. We strive to uphold our values for every story published.