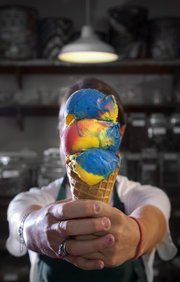 July is National Ice Cream Month, and professional scoopers across town are busy trying to satisfy customers' endless appetites for their favorite frozen concoctions.
"July is always a great month for us but, really, as soon as it starts warming up, people start coming in like crazy," says Cindy England, owner of Sylas & Maddy's Homemade Ice Cream, 1014 Mass.
"Lawrence loves ice cream. This has been our best summer yet, and we say that every summer."
The challenge, England says, is to keep serving up exciting new flavors for customers to slurp.
"We always try to have a couple new ones. Customers give us ideas, and we'll try to make it, if it's within reason," she explains. "Some aren't, like putting blueberries with peanut butter.'"
Even after 14 years in the business, some of England's own experiments still go awry.
"We've had some horrible ones," she admits, laughing. "We made one that tasted just like Scope mouthwash and we had to throw it all out. We did a green tea (ice cream). I didn't like it at all, but people loved it."
There's no accounting for taste in ice cream, but England says every new flavor has to pass the cash register test.
"You can make beer flavor. You can do salsa flavor. You can do anything, but the question is 'will it sell?' One that I just think is weird is called "Blue Moon." It's blue, and it's got mini-rainbow chocolate chips in it. It tastes just like Fruit Loops, but people buy it."
Business is also brisk at Penny Annie's Sweet Shoppe, 845 Mass. Owner Becky Bowers says her patrons love to indulge in old-fashioned sodas and sundaes. But, when it comes to ice cream flavors, they're typically purists.
"The most popular flavors are the old standards, believe it or not, vanilla, chocolate, then strawberry," Bowers notes. "Cookie dough and cookies and cream are next on the list."
Not to say Bowers doesn't include a little razzle-dazzle on her menu.
"We have what we call Super Hero ice cream," she says. "It's in KU colors: blue, red and yellow. The kids love it — probably because of the colors — but it's just vanilla, that's all. It's rather obnoxious, but kids like that kind of stuff."
Ben & Jerry's, 818 Mass., has won legions of local ice cream devotees with creative combinations of sweet ingredients in products like Half Baked, Chubby Hubby and Magic Brownies.
At their shop in downtown Lawrence, employee Laura Hansen says she's surprised at the combinations of flavors customers will come up with, when ordering treats to go.
"I just had a lady leave with a scoop each of Coconut Seven Layer Bar, Cherry Garcia and Berry-Berry sorbet. It was all piled in a waffle cone," Hansen says.
"And last week, I made a shake with Strawberry Cheesecake, Triple Caramel Chunk and Mint Chocolate Chunk. They liked it, but I just thought it was really odd-sounding."
For extreme ice cream fans who abide by the "more is more" mantra, Ben & Jerry's offers the gargantuan Vermonster sundae for a mere 30 dollars. You can feel your blood sugar rising just reading the description:
"It's a gallon tub with 20 scoops of ice cream, 4 bananas, 4 ladles of hot fudge or caramel, 3 cookies, a brownie, then 10-12 scoops of toppings and whipped cream on top of that," Hansen says, laughing. "It's just a huge, ridiculous bucket of a sundae. For everything that's in it, it's actually a really good deal. People will bring five of their friends in and try to conquer it."
Not to be outdone, Sylas & Maddy's plans a similar super-sized creation, with a competitive twist, for the return of KU students in August.
"We're planning to do kind of an everything-but-the-kitchen-sink kind of thing," England says. "Something like 'if you can eat this amount of ice cream in a certain amount of time, you can have it free.'" I just need to find big enough containers that are disposable. They're hard to find."
Copyright 2018 The Lawrence Journal-World. All rights reserved. This material may not be published, broadcast, rewritten or redistributed. We strive to uphold our values for every story published.