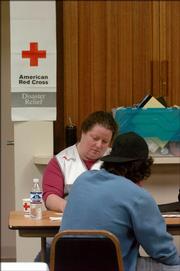 When a fire last week at an apartment complex in the 1000 block of 24th Street left about a dozen people temporarily homeless, the Douglas County chapter of the American Red Cross was there making sure everyone had a place to stay, food to eat, and clothing.
And year-round, 24 hours a day, the local Red Cross can send out members of its Disaster Action Team to respond to an emergency affecting area residents.
The so-called "DAT teams" are made up of trained volunteers who help disaster victims get through the initial crisis period.
"This is probably going to be the worst thing that's happened to them," said Jane Blocher, executive director of the Douglas County Red Cross chapter. "It gives them that light at the end of the tunnel."
When DAT workers are sent to a disaster, they meet with victims to assess their needs, which can include housing, baby supplies or transportation. Victims are given a relief debit card that can be used for hotel rooms, food and other needed supplies. Costs for such cases, Blocher said, can run from $50 to $1,000, depending on the type of emergency and size of a family. The program is funded by donations and is provided at no cost to victims.
The Red Cross also assists in larger disasters that can sometimes require an emergency shelter, such as the one volunteers operated during the Boardwalk Apartments fire in 2005. In a given year, the agency responds to between a dozen and three dozen local disasters, Blocher said.
Aside from the financial assistance that the agency provides, reassuring victims that someone is there to help is the Red Cross' most important function, Blocher said.
"As many of them say when we get there, 'It's just stuff.' But the trauma of going through an experience like that is something they never forget," she said.
For four-year DAT veteran Monique Pilch, responding to disasters has given her a new perspective.
"It has really humbled me," Pilch said. "It has given me a lot more compassion for disaster victims."
Pilch and the other DAT members, who rotate on-call duties throughout the year, also receive training in mental health first aid to help in those moments when no one is quite sure what to say.
"Just to guide them and direct them," is how Pilch characterizes her job as a DAT member. "They're not quite sure what the next step is."
Copyright 2018 The Lawrence Journal-World. All rights reserved. This material may not be published, broadcast, rewritten or redistributed. We strive to uphold our values for every story published.