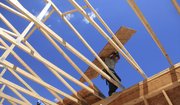 In August — once the construction workers leave — Purviz Birdie will move her preschool out of her basement and into a new building.
The plan for the new Lawrence Montessori School, 1300 Research Park Drive, was set in motion last year.
"We have been wanting to do this for a long time," Birdie said.
Birdie opened her home to teaching in 1997, and her business kept growing. Ten children are currently enrolled in Birdie's Montessori program — and the new center will accommodate 90 children.
The new school also will have classrooms, a sleeping room, a physical care area, activity and play room and an eating area.
Karen Huffman, the new school's manager, said Birdie looked all over the world for the best teachers she could find.
"One's coming from the UK, and one's coming from Korea, I think," she said.
The school will also have an infant section, in addition to its preschool children.
"It's such a great reward being able to educate young children," Birdie said.
Susie Wilson was referred by a friend to Birdie's school 10 years ago. Her two older sons attended the school, and now her 4-year-old daughter does.
"I'm excited for her to be expanding," Wilson said. "She's Lawrence's best-kept secret."
Copyright 2018 The Lawrence Journal-World. All rights reserved. This material may not be published, broadcast, rewritten or redistributed. We strive to uphold our values for every story published.