Photo Gallery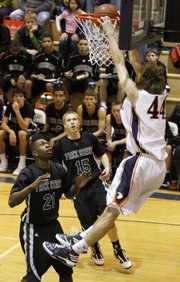 Free State at Olathe East
Olathe — When the Free State High boys basketball team found itself in a 31-point hole against Olathe East on Friday, Firebirds coach Chuck Law called a timeout. His message in the huddle was simple.
"All we said was, we're going to learn about our team," Law said. "We're either going to lose by 60 — which we were on the way to doing — or we can dig down and find out who wants to play and how much pride we have."
The bad news for FSHS: The Firebirds still lost, 52-31.
The good news: Free State didn't look nearly as poor after the timeout, which occurred with 5:16 left in the third quarter and FSHS trailing, 39-8.
Free State outscored Olathe East, 15-9, in the final quarter.
"I thought we did a pretty nice job of finding a little bit of courage and fortitude to play in the last 12 minutes," Law said.
The first half was ugly for Free State, which had more turnovers (10) than it did points (eight). Olathe East's post men — namely 6-foot-6 forward Cody Gafford — controlled the game, and they did it with authority. Gafford scored four field goals, all on dunks. One was an alley-oop jam.
On the other end, FSHS couldn't find any space in the paint against O-East's big men. The Firebirds scored only six points off two-pointers the entire game, compared to the 30 points off two-pointers for the Hawks (10-2).
"Here's the thing: They are so big, so athletic," Law said. "They shut down anything that we tried to do offensively for 21⁄2 quarters ... we just had to try something else."
After Law's third-quarter timeout, the Firebirds came out in a different look: mostly guards in a perimeter-oriented offense that spread the floor. It worked, at least in terms of making the game respectable.
Senior Ryan Scott drilled three three-pointers and finished with a team-high 10 points. Senior Nick Hassig and sophomore Brett Frantz each chipped in a pair of threes, as well.
"We spread it out and just started passing the ball a lot more and being a lot more comfortable with the offense," Hassig said. "We obviously didn't bring our energy to start. But at the end, we were playing with reckless abandon, just going out there and playing instead of thinking about it so much and being so tentative."
The small lineup also featured a full-court press on defense until the end. Sure, Free State (5-7) wasn't going to win the game. But that wasn't the point.
"We had that little lineup, and I thought we really communicated, we flew around, and we took some chances," Law said. "That's what we need to have all the time."
Junior Evan Manning also saw extended time in the small lineup. The Free State point guard finished with a game-high seven assists.
Olathe East blew the game open with a 15-0 run in the first half and a 13-0 spurt to open the second half.
Free State will travel to Topeka High at 7:30 p.m. on Tuesday.
Copyright 2018 The Lawrence Journal-World. All rights reserved. This material may not be published, broadcast, rewritten or redistributed. We strive to uphold our values for every story published.