Photo Gallery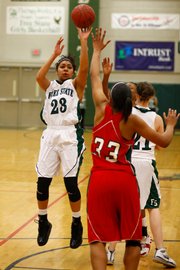 Free State girls vs. Highland Park
Rarely does a team hold another squad scoreless in a single quarter once during an entire season.
It's even more unusual for a team to do it on back-to-back nights.
That's what the Free State High girls basketball team did during the first two rounds of the Firebird Winter Classic, in which it advanced to the championship game with a 48-36 victory against Highland Park in the semifinals on Friday.
One night after blanking Topeka West, 12-0, in the first quarter of their opening-round victory, the Firebirds repeated the feat with an 11-0 whitewash of Highland Park during Round 2. That 11-point cushion proved to be invaluable as the Scots trimmed Free State's largest lead of 16 points to nine twice, but could not crawl any closer.
"It's a little bit of a surprise to do that two nights in a row," FSHS senior Ashli Hill said. "But if there's one thing we work on more than anything in practice, it's defense. If anything, we're a defensive team first, and we use that to fuel our offense."
That was exactly the story Friday as the Firebirds snagged eight steals, six blocks — four from Hill — and forced Highland Park into 17 turnovers.
"In the first quarter, our defense was outstanding," FSHS coach Bryan Duncan said. "But I had a hard time getting past the fact that in the second quarter it was equally as poor. But we had what I'd call a spirited halftime conversation, and I think the players got the message."
After surrendering 14 points to the Scots in the second quarter — which left FSHS with a 23-14 halftime lead — the Firebirds returned to form in the third quarter, limiting Highland Park to six third-quarter points en route to regaining control of the game.
"Coach was definitely mad at halftime," said sophomore Jackie Garcia. "But nobody got upset about it because when he gets like that it makes us play better."
As for their offense, Hill got the Firebirds on track in that department, too. Inspired by her own play on the defensive end, Hill scored 10 points in the first half and added seven rebounds and three blocks to that stat line. For the game she finished with 12 points, 10 rebounds and four blocks.
"My defense definitely gets me going," she said. "Especially if I block a shot and get the rebound. I think that just gives our whole team a little spark and a little fire."
Overall, the Firebirds had an off night shooting, finishing just 13-of-38 (34 percent) from the field. They made up for it by knocking down 22 of 29 free throws to keep the physical Scots at bay.
Chantay Caron, who hit 11 of 13 free throws, finished with a game-high 17 points. Wren Wiebe added nine, and Lynn Robinson chipped in five.
The victory moves Free State into the championship game for the third time in the 10-year history of the tournament. The Firebirds have yet to win their own tournament, but now that they're on the brink of finishing on top for the first time, Duncan and his players said they would not let anything stop them.
"I don't think it's any secret that, for us, success in this tournament this year means coming in here and winning it," Duncan said. "We've put ourselves in position to do that, and now we need to come out and play our best game of the tournament."
Added Hill: "Coach Duncan expects nothing less of us than to win this thing. And that's what we're going to focus on."
Free State (9-4) will take on Wichita Northwest at 2:30 today in the title game. The Grizzlies advanced to the final with a 55-38 victory against Goddard on Friday.
*Be sure to check out the latest version of Tait's Take for a look back at the individual performances from this game.
Copyright 2018 The Lawrence Journal-World. All rights reserved. This material may not be published, broadcast, rewritten or redistributed. We strive to uphold our values for every story published.