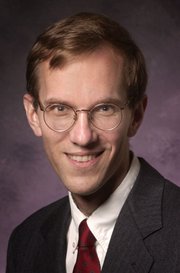 Kansas University's second candidate for its liberal arts dean is Joseph C. Shields, the chairman of the department of physics and astronomy at Ohio University.
The university made the announcement Friday morning.
He will meet with faculty, staff and students at a public forum at 3 p.m. Monday at Alderson Auditorium in the Kansas Union.
He is the second of four finalists announced for the top position in KU's College of Liberal Arts and Sciences. Susan Carlson, associate provost of faculty advancement and diversity at Iowa State University, visited the university last Monday.
Shields graduated summa cum laude with a bachelor's degree in physics and astronomy from KU in 1985 before earning his doctorate at the University of California-Berkeley. His research interests have been in astronomy.
Copyright 2018 The Lawrence Journal-World. All rights reserved. This material may not be published, broadcast, rewritten or redistributed. We strive to uphold our values for every story published.