Photo Gallery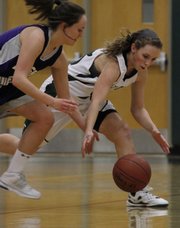 Free State girls vs. Topeka West
Sidelined two games because of a concussion, Free State High senior Chantay Caron returned to action Thursday and helped the Firebirds hand quite a headache to the Topeka West Chargers in the opening round of the 10th annual Firebird Winter Classic.
Caron poured in 18 points and three of her teammates scored at least eight, as the Firebirds improved to 8-4 on the season with a 53-16 romp of Topeka West at FSHS.
"It was so nice to have her back," Free State sophomore Lynn Robinson said. "Everybody's just so much more comfortable and so much more confident when she's on the floor."
That showed. But it came through most on the defensive end, where the Firebirds used a relentless full-court press to force West into six straight turnovers to open the game.
While the Chargers were kicking the ball around, the Firebirds were scoring. Free State led 14-0 after one quarter and 26-2 at halftime. West didn't score its first points of the game until 2:00 remained in the first half.
Topeka West committed 15 first-half turnovers — eight of them because of Free State steals — and would have trailed by more had the Firebirds not cooled off offensively. After hitting its first five shots, Free State finished the half just 11-of-27 from the field.
Free State pushed its lead to 33-2 with a 7-0 run to start the third quarter. That, FSHS coach Bryan Duncan said, was a sure sign that his team had not lost its intensity.
"I think the biggest thing is that we learned from the Olathe North game," said Duncan, referring to a game two weeks ago in which the Firebirds led 32-10 at the half but were outscored 30-27 in the second half. "I thought we looked sharp, we shared the ball well and we were very unselfish. In a game like that it's very easy to go out and play for yourselves but we didn't do that. What's more, I thought we were very respectful of our opponents tonight, too, which is very important."
FSHS senior guard Wren Wiebe, who chipped in nine points, three rebounds, two assists and two steals, said Duncan mentioned the Olathe North game at halftime and that the subtle hint was a very effective reminder.
"Nobody wanted that to happen again," Wiebe said.
So it didn't. The Firebirds played defense with the same passion, ran their offense with the same precision and continued to play until the end. Sure, Topeka West scored 14 points in the second half, but the Chargers were bound to improve on their 1-of-11 shooting from the first half at some point.
Robinson, who added eight points, a game-high seven rebounds and three steals, said she had an idea why her team stayed locked in during its opening-round victory.
"We want to win (the tournament)," Robinson said. "We were thinking about that this whole game and I think that's what helped us stay focused."
Senior Ashli Hill added eight points and four blocks for Free State, which will face Highland Park in the semifinals at 6:30 tonight. Highland Park defeated Leavenworth, 63-53, on Thursday.
*Be sure to check out the latest version of "Tait's Take" for a look back at the individual performances from this game.
Copyright 2018 The Lawrence Journal-World. All rights reserved. This material may not be published, broadcast, rewritten or redistributed. We strive to uphold our values for every story published.