The planning process began in April, shortly after the first case was confirmed by the CDC on April 15.
The first vaccine was given Oct. 21, 2009, at Haskell Indian Nations University. It was the first H1N1 vaccine clinic in Kansas.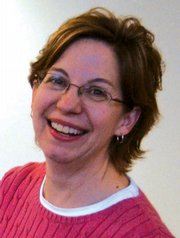 "Our efforts to vaccinate the community against H1N1 is by far the largest public health undertaking we have had at our health department. In fact, statewide and nationally, this has been an unprecedented public health response effort."

— Charlotte Marthaler, health department's director of policy and planning
As of Jan. 23:
• 23,967 — Vaccinations given in the county.
• 45 — Clinics given that the Lawrence-Douglas County Health Department provided or assisted.
• 3,269 — Total hours worked to provide clinics.
• $504,949 — Federal funding provided to health department for H1N1 planning, surveillance and response.
• $235,377 — H1N1 federal funding spent by health department.
Health department's next steps:
Continue to immunize through its clinic and community clinics. A list of can be found at in the swine flu section of our health site.
Evaluate efforts, and it's already started.....
Community feedback
Details: About 25 people — involved in the process and representing entities such as schools, city, police department, KU and child care — provided feedback. Here's what they said:
• Seasonal vs. H1N1. Information provided to public confusing.
• On-site clinics. Having clinics in public places like schools and child care facilities was more convenient.
• Infection control. Parents did a much better job this year in keeping sick children home.
"The more we undertake these events and work with them in our community, the more prepared we are for the next type of event. We've learned a lot from this. I think our community partners learned a lot as well as the public who came to those clinics."

— Charlotte Marthaler
Staff feedback
Details:
The staff recently weighed the pros and cons of having clinics at the Community Health Facility, where it is located at 200 Maine, versus elsewhere. Here's what they said:
Community Health Facility
Pros:
• Physically easier. The staff didn't have to move equipment and supplies, so they didn't have to work as many hours.
-->
• Simultaneous data entry. Entering data during clinics saved time.
• Privacy. Children were less anxious.
• Home field advantage. If staff needed something, they could get it — e.g. a copy of a document.
Cons:
• Inconvenient hours. H1N1 clinics had to compete with other services in the building (Bert Nash Community Mental Health Services and Douglas County Visiting Nurses, Rehabilitation and Hospice Care).
• Lack of space. During bad weather, the lobby doesn't have room for all the people waiting in line, and people who arrived early disrupted other services.
• Lack of parking.
Community clinics
Pros:
• Greater community involvement and cooperation, e.g., more volunteers.
• More space. Staff could quickly change, e.g., add a vaccination clinic, and more people in line could wait inside.
• More parking.
• More restrooms.
• Convenience for public. For example, clinics were held during parent/teacher conferences at schools.
Cons:
• Unknown territory.
• Transportation of supplies. It took extra hours to set up and take down clinics.
• Crowd control. Those administering the vaccine found it more difficult to keep those waiting out of the station areas. The lines kept inching closer, creating less privacy for those getting vaccinated.
• Confusion. Community often didn't know who could participate in each site.
"What we are finding out is that it's really difficult to find an optimal location for mass dispensing. It's always a tug and pull over what is going to be the best thing to do."

— Charlotte Marthaler
Helpful links:
• Special coverage of flu data: www2.ljworld.com/data/flu.
• Special coverage of H1N1 pandemic: www2.ljworld.com/news/living/health/swine_flu.
Copyright 2018 The Lawrence Journal-World. All rights reserved. This material may not be published, broadcast, rewritten or redistributed. We strive to uphold our values for every story published.