Douglas County H1N1 updates
Photo Gallery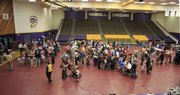 Swine Flu vaccinations
H1N1 vaccines
The Lawrence-Douglas County Health Department has scheduled three H1N1 immunization clinics at the Douglas County 4-H Fairgrounds, 2120 Harper St., for those who are considered at risk of suffering complications if they get swine flu.
The clinics will be:
• 2 p.m. to 6 p.m. Wednesday.
• 4 p.m. to 8 p.m. Oct. 29.
• 9 a.m. to 1 p.m. Oct. 31.
The department will provide the vaccine at no cost.
Kansas University also has scheduled swine flu immunization clinics for students, staff, faculty and retirees. They will be from 10 a.m. to 2 p.m. every Friday from Nov. 6 through Dec. 4, except Thanksgiving Day weekend.
The immunization clinics will move around. Here's the schedule: Nov. 6, Mrs. E's cafeteria in Lewis Hall; Nov. 13, Kansas Union ballroom; Nov. 20, Ambler Student Recreation Fitness Center; and Dec. 4, Kansas Union ballroom.
For more information or to download a vaccine consent form, visit the health department's Web site at ldchealth.org.
-->
The cries of little ones echoed throughout Haskell Indian Nations University's Coffin Sports Complex on Wednesday afternoon.
Tears were streaming down little cheeks, and some children even tried to run from their parents as they got closer to receiving the novel H1N1 vaccination at the Lawrence-Douglas County Health Department's first community immunization clinic.
It also was the first community clinic in the state for H1N1, commonly known as swine flu. The virus has caused widespread illness across the state and claimed eight lives in Kansas.
The clinic provided the first opportunity for people to get immunized, and many were eager to do so.
The line started forming at 11:30 a.m. and by the time the clinic started at 2 p.m., at least 200 people were there. The line wound its way through the lobby and outside to the main parking lot.
Anticipation, fears
Andrew Ellis, a student at Lawrence High School, was the first to receive a vaccination, and his parents Jim and Gail Ellis followed.
"It was wonderful to be able to get it," said Gail Ellis, who has an immune deficiency. "Now I can say, 'Yeah.' We can go about our lives in the community and know that we are protected."
She added, "I wasn't scared at all. In fact, I was anticipating it."
That wasn't the case for many children.
Five-year-old Brooklyn Guffey, Lawrence, was kicking and screaming, "I don't want to do it. No. No. No."
Her sister Chandler Guffey, 8, also shed tears. But they were both smiling a few minutes after receiving their shots and ready for the ice cream that their mother, Leslie Guffey, had promised.
Leslie said she didn't want to take any chances with the swine flu and that's why she got her girls vaccinated.
"I have heard the reports of children who can have serious complications and that it can possibly turn fatal," she said.
Lawrence resident Liesl Hays, who is six months pregnant, and her 8-month-old daughter Madelyne Hays each received a vaccination.
"I just recognize that we are a population that's vulnerable to getting H1N1 and having complications, and I just felt like it was really important to get vaccinated to stay healthy this flu season," Hays said.
Blue-eyed Madelyne, dressed in a purple shirt and brown pants, was all smiles until getting poked. Then, she turned bright red and started crying.
New experience
Carole Rehder, a retired nurse who worked for the Lawrence health department for seven years, said volunteering at the H1N1 clinic was a new experience for her.
"The difference is the age group. We are doing so many children, where our clinics in the past have been mainly older people," she said.
That's because children are more prone to get swine flu and more likely to suffer complications from it.
The health professionals who volunteered at the H1N1 clinic quickly found out the process was going to take more time because they were dealing with a younger population.
"You feel sorry for the child because they truly are frightened. That's true fear," Rehder said. "We try to make it as quick and as comfortable as we can for the child. Occasionally, it takes two or three holders, but I don't think any of us encountered a child who didn't get it."
"We always win," she said with a chuckle during a short break. "Sometimes it is sheer determination on our part. They never believe we do it because we love them, but that's the reason."
Priority group
The clinic was for people who most likely would suffer complications if they got swine flu.
According to the Centers for Disease Control and Prevention, these are pregnant women, people between 6 months and 24 years, people who live with or care for children younger than 6 months, health care and emergency services personnel, and people ages 25 through 64 who have health conditions associated with higher risk of medical complications.
As Suzanne Lange, 64, a clinical psychologist at Haskell Health Center, stood in line with two co-workers, she described the event as a phenomenon.
"I have never seen anything like this in my lifetime," she said. "I didn't expect this many people."
By the end of the clinic at 6 p.m., 1,360 doses of vaccine had been provided. The health department has 2,690 doses left and expects more to arrive next week in time for the next three community clinics at the Douglas County 4-H Fairgrounds.
Dan Partridge, director of the health department, said he visited with people who were vaccinated and most of them thought it was well organized. Some were unhappy about standing in the occasional rain.
Others suggested separating the vaccination stations from the waiting area, so the children wouldn't have to watch and hear the cries of their counterparts, which Partridge thought was a good idea.
Lisa Horn, health department spokeswoman, said the department plans to improve its efforts.
"We already are talking about some things we want to do differently next week like possibly getting even more vaccinators to make the process go even faster," she said.
Copyright 2018 The Lawrence Journal-World. All rights reserved. This material may not be published, broadcast, rewritten or redistributed. We strive to uphold our values for every story published.