Photo Gallery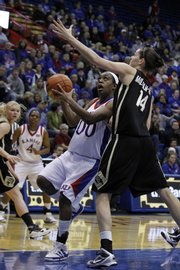 KU vs. Colorado
Related document

KU-CU women's box score ( .DOC )
Danielle McCray has never played a basketball season without suffering a mid-season slump.
"It always comes," McCray said. "I'm glad it came now, instead of at the end of the season."
McCray bounced back from her two worst games of the season to fuel Kansas University to a 75-64 victory over Colorado on Wednesday night in Allen Fieldhouse.
The 5-foot-11 senior All-America candidate scored 29 points and matched her career-high with 16 rebounds — a far cry from her last two outings, when she scored 13 points combined.
"Hey, I needed to step up," McCray said. "I haven't been doing that."
McCray compiled 19 points and eight rebounds during a first-half blitz that left the Buffaloes in a 47-27 halftime hole. During that decisive 20 minutes, Kansas posted a stunning 27-7 advantage on the boards, with 14 coming on the offensive end.
"They were picking them up and putting them back," Colorado coach Kathy McConnell-Miller said.
McCray, who had been 0-for-9 from three-point range in the last two games — both on the road and both defeats — was 4-for-8 from beyond the arc during that first-half salvo.
For good measure, McCray added four assists. The only glitch in her game was turnovers — seven of them.
"She's got to handle the ball better than that," KU coach Bonnie Henrickson said. "That's the disappointing thing."
Kansas was 1-for-January going into this one, loser of five of its last six and facing basically a do-or-die situation.
"I told our seniors it's the biggest game of their careers," Henrickson said. "I told them, 'You've got to win and get on a run.'"
Kansas struggled through a similar January funk last year, but caught fire in February and earned a berth in the WNIT, eventually finishing as national runner-up.
This year, however, the avowed goal is the NCAA Tournament, and a loss Wednesday night may have quashed that postseason possibility.
"We came in with the feeling that if we don't win," senior Sade Morris said, "we're not going to the (NCAA) tournament."
That siege mentality among the seniors seemed to help LaChelda Jacobs, too. The Jayhawks' point guard by default since Angel Goodrich's knee injury, Jacobs was impressive during the big first half with four assists and no turnovers.
But Jacobs couldn't maintain and coughed the ball up four times in the second half before Henrickson replaced her.
"She couldn't get out of her own way," Henrickson said of Jacobs, "and she imploded on me."
Not that she was the only one. The Jayhawks certainly lost either their momentum or their mojo or both during the last 20 minutes, allowing Colorado to slice a deficit that had grown to as many as 24 points to as few as 11 with under a minute remaining.
In retrospect, it was fortunate for the Jayhawks that they had compiled that huge first-half advantage because they missed five straight free throws — four by Marisha Brown — in the last two minutes.
"Marisha's not that bad a free-throw shooter," Henrickson said. "I don't know what that was."
Kansas (12-7 overall, 2-4 Big 12) will travel Saturday to Missouri in an attempt to capture its first conference road win.
"We have to commit to playing 40 minutes," Henrickson said, "because we know Missouri will do that on Saturday."
Copyright 2018 The Lawrence Journal-World. All rights reserved. This material may not be published, broadcast, rewritten or redistributed. We strive to uphold our values for every story published.