Topeka — In the face of a wall of opposition from business interests, Gov. Mark Parkinson said that legislators should not fear voting for a tax increase to balance the budget.
Parkinson said it was a "myth" that voters would punish legislators who vote to increase taxes. "It's not the end of the world," Parkinson said of a tax vote.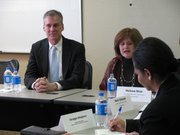 His remarks were made Tuesday during a meeting of the Kansas Children's Cabinet and Trust Fund.
In the past year, Parkinson and the Legislature have cut nearly $1 billion from a $6.4 billion state budget because of a steep decline in tax revenue.
Still, the state faces a $400 million revenue shortfall. Further cuts, Parkinson said, would do serious damage to the state.
Parkinson has proposed increasing the state sales tax by one cent for three years. He also wants to increase the cigarette tax by 55 cents per pack. Parkinson said that proposal would increase revenue to the state while also preventing more young people from smoking.
But a tax increase has drawn strong opposition from business interests.
12:33 p.m.
Two Republican legislators from Johnson County are proposing an increase in the state liquor tax with the funds dedicated to covering revenue shortfalls for social services.
"In this economy, the need for mental health (services) is even more," state Rep. Kay Wolf, R-Prairie Village, said Tuesday.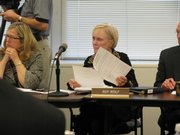 Social service agencies have endured sizeable budget cuts over the past year as Gov. Mark Parkinson and the Legislature have reduced spending by nearly $1 billion because of falling revenue collections. Lawmakers still face a $400 million budget hole for the next fiscal year.
Wolf and state Rep. Pat Colloton, R-Leawood, have proposed doubling the liquor gallonage tax, which would produce $22 million. Under the proposal, the increased revenue would go toward mental health centers and reducing a waiting list for those receiving home and community-based assistance.
The current tax is 18 cents per gallon on beer, 30 cents per gallon on wine and $2.50 per gallon on alcohol. It is levied upon the person who first manufactures, sells, purchases or receives the liquor. It has already been paid by the time the product is for sale in a liquor, grocery or convenience store.
10:30 p.m.
Kansas business groups on Tuesday were united in opposition to Gov. Mark Parkinson's proposal to increase the state sales tax from 5.3 cents per dollar to 6.3 cents per dollar to help address a $400 million revenue shortfall.
Kent Eckels, a lobbyist for the Kansas Chamber, told the House Tax Committee, that businesses in surrounding states were "salivating" at the thought of an increased sales tax in Kansas.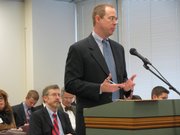 Derrick Sontag, head of the Kansas chapter of the anti-tax group Americans for Prosperity, said state government is spending too much. When asked where the budget should be cut, Sontag said public school funding should be cut further.
Art Hall, director of the Center for Applied Economics at Kansas University, said an increase in the state sales tax would mean 26,000 fewer jobs over five years and have a $2 billion negative impact. He said that was because the increase take more money out of family budgets and Kansans would buy fewer things.
Last week, proponents of the tax increase testified.
In 2009, state legislators and Parkinson cut about $1 billion from the state budget. Parkinson says further budget cuts will cause serious damage to public schools, universities, social services and public safety.
Copyright 2018 The Lawrence Journal-World. All rights reserved. This material may not be published, broadcast, rewritten or redistributed. We strive to uphold our values for every story published.