Audio Clips
2010 KU-Missouri
-->
Online chat
-->
Photo Gallery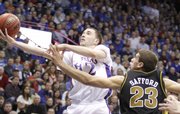 KU vs. Missouri
Of all the questions facing the Missouri men's basketball team following Monday's road matchup with Kansas University —and there were a lot of them — perhaps the most baffling was how a team that managed to win the turnover battle by 18 somehow suffered a 19-point loss that really wasn't as close as it sounds.
No one could quite say afterward, but there's a good chance it stemmed from an inability to succeed in just about any other aspect of the Tigers' 84-65 loss to the Jayhawks at Allen Fieldhouse.
Shooting?
Mizzou shot 28 percent from the field. Two of their top scorers this season, Kim English and J.T. Tiller, shot a combined 5-for-24, and the Tigers produced a paltry 6-of-18 performance from three-point range — a statistic that serves as a regular indication of how the team fared on a particular evening.
"Obviously, if you shoot that way, you're going to lose," said Justin Safford, who finished with a game-high 19 points and represented the lone bright spot for MU offensively. "The first 10 minutes, we kind of had the game going the way we wanted, and then they gave us one punch, and we folded. Guys went separate ways instead of coming together."
Rebounding?
The Tigers were outrebounded, 56-28, for the game and 18-11 on the offensive glass, gave up 15 second-chance points in the first half alone and allowed Kansas big man Cole Aldrich to do as he pleased in the paint.
"They just dominated the glass, whether they came over our backs or not," MU coach Mike Anderson said. "I told our guys, 'You're going to have to fight, and you're going to have to hit somebody,' and I don't think we did a good job of doing that."
Mental mishaps?
They had that covered, too, freezing after Kansas surged ahead during an early run and attempting to recover by shooting just about any shot that wasn't inside the three-point line.
"We're young," Anderson said. "Real young. That's how young teams play, that's how they react to adversity sometimes. If you're down 15, they may try to make a 15-point play."
The result was a game that got out of hand quickly and had fans heading to the parking lot midway through the second half.
The Tigers' 12-11 lead in the game's first five minutes swiftly became a 20-point halftime deficit as Kansas steadily built upon an early lead and managed to outplay the Tigers in the second half despite being outscored by one.
Anderson insisted following the game that Monday's matchup had made his team better — a stated pregame goal — but while one could appreciate his optimism, there was little statistically to back it up, as Mizzou was significantly outdone in three-point shooting, assists, blocks and fast-break points.
Missouri players, too, downplayed the significance of a midseason road loss — even if it did come against a rival as despised as Kansas — and pointed to a schedule that features 11 more regular-season games, including a March 6 rematch with the Jayhawks at Mizzou Arena, where the Tigers hold the third-longest home winning streak in the nation.
"It's early in the season," MU guard Zaire Taylor said. "I don't know the date — I'm assuming somewhere in the middle of January. But at the end of the day, we've got February, which is a big month, and we still got the rest of this month. And as much as this is a rivalry game and we'd love to get the chance to beat them ... it's still Big 12 basketball, and it's still one loss."
Copyright 2018 The Lawrence Journal-World. All rights reserved. This material may not be published, broadcast, rewritten or redistributed. We strive to uphold our values for every story published.