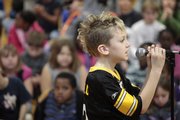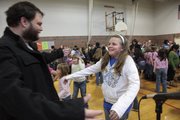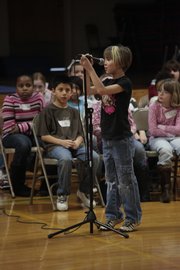 Don't let the candy-colored murals and construction paper-plastered bulletin boards fool you — beneath the juvenile trappings of Kennedy School roils the same spirit which transforms mortals into Olympians and grade-school students into spelling deities.
The stakes couldn't be bigger for these third- through sixth-graders — from this qualifying round the winner goes on to the Douglas County Spelling Bee, and from there the regional competition for the Scripps National Spelling Bee. They sit in a phalanx of folding chairs, their young peers sit-cross legged before them on the gym floor.
The inaugural round is afoot. Our first combatant steps up to the microphone. He's ready to take his shot. The three judges sit in aloof omnipotence, ready to dispatch of him should he falter. Ann Lounsbury, our pronouncer, launches the opening salvo from her podium. The word is "school." Ronnie sticks the paint at half-court, adjusts the microphone and fires away. "S-C-H-O-O-L." Used in a sentence, "Ronnie just showed you how it was done and took you to school." The audience was asked to respectfully hold their applause throughout the competition, but the mental adulations were deafening. One word successfully vanquished, 95 to go.
The first round barrels along, with opponents such as "table," "acorn," "other" and "shark" falling like so many Messershmitts shot out of the sky. But then we have our first casualty of the day. "Body," as it turns out, is not spelled with an "a." The young man bowed his head, turned his back to the microphone, walked away with leaden feet from his shot at spelling celebrity and disappeared into the crowd.
A maxim every young speller knows all too well before entering the arena: You mess with the bee, you're liable to get stung.
The first moment of tension arises in the last quarter of round one when a young woman asks Ms. Lounsbury for the definition of "broken." After she receives the definition, agonizing seconds stretch into eons as she stands silently. A hush falls over the gym. You could hear a syllable drop in that room. Finally, summoning all her acumen, she delivers the winning blow. "B-R-O-K-E-N." You could feel a collective exhalation.
And so it went for four more rounds. Some contestants survive by sheer determination and luck, but most are winnowed away to find themselves in the arms of their parents or with their heads in their hands. Pressure mounts as the difficulty curve begins to treacherously slope. "Scoop" gives way to "punctuation," and "ouch" is soon overshadowed by "successful."
Finally, we reach the moment of truth — round six. Only two are left standing from the original 30. Sixth-grader Leah Novinger will face off against fifth-grader Helana Tsosie. Worlds, or at least different grade levels, will collide.
Novinger begins with "immature." No problem. Tsosie follows up with the toe-curling "centipede." It was a thing of beauty. Novinger, unfazed, responds with a convincing "monarch." These two are worthy adversaries. Neither of them exhibits a single bead of sweat.
But Tsosie steps up to mic for "apology." Without hesitation she begins. "A-P-O-L-A-G-Y." Ms. Lounsbury turns with heavy heart to the triumvirate, who give her the veritable thumbs-down. She turns back to her microphone and regretfully informs, "I'm sorry, that's not correct." The young bee-thlete collects herself like a professional and returns to her seat. It's not over yet for Tsosie, however. Novinger still has to put her away with a follow-up spelling.
Novinger returns to the microphone. The word standing between her and the summit of spelling achievement is "denominator." She takes a moment to lay it out in her head. The crowd is enraptured. Slowly she unfurls the word. "D-E-N-O-M-I-N-A-T-O-R." The air is pregnant with anticipation. The verdict from Ms. Lounsbury: "That is correct." Denominator had been dominated. Leah Novinger was the new Kennedy School Spelling Bee champ. She will proceed to the Douglas County Spelling Bee bearing her school's standard into battle. At last the audience lets loose with their pent-up applause.
Asked afterward what her strategy was going into the match, Novinger professes that tapping the word on her hand helped get her through in a pinch. However you spell out her tactics, there's only one way to spell the end result for Leah Novinger on this day: G-L-O-R-Y.
Copyright 2018 The Lawrence Journal-World. All rights reserved. This material may not be published, broadcast, rewritten or redistributed. We strive to uphold our values for every story published.