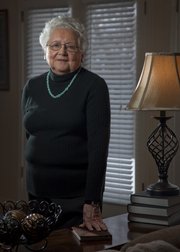 Don't even ask Kansas University Sigma Delta Tau's housemother, Betty Nichols, 86, when she's going to retire. It's not on her radar.
"I've had a long, fulfilling life, and I'm not ready for it to end," says Nichols, who never settled for the well-trodden path.
She became a chiropractor in the days when it was a mainly male and even unrecognized profession, led nearly 50 foreign and domestic travel tours, served as a mayor and led national workshops for sorority housemothers.
"There's still a lot more I want to do," she says.
Nichols grew up in a small town near Williamson, Iowa. It seemed she might have a straightforward life.
"I adored babies," she says.
"I'd borrow neighbors' babies and mind them for hours if they'd let me. I decided my goal in life was to get married and have babies of my own."
Her chances seemed limited. Her strict, religious mother wouldn't let her only child attend her senior dance.
"She didn't believe in dancing, and my father believed women didn't need to attend college."
Nichols rebelled.
When she graduated from Chariton Junior College in 1943, she used her savings to leave home and attend Eastern Airlines' training school in St. Louis.
"My parents wouldn't sign the papers to let me fly, so I became a reservationist," she explains.
She later returned to Chariton, worked for an attorney and married her high school friend, Don, on New Year's Day 1946 after his discharge from the Navy. When he applied to attend Palmer School of Chiropractic, supported by the GI Bill of Rights, they discovered she could receive some tuition costs and use his books.
After graduation they opened an office in Kentucky and later moved to Paola, where chiropractors were licensed. Nichols achieved her childhood dream. She had three children, became a stay-at-home mom and did chiropractic work only when her husband needed help. Her life changed drastically when her husband died at age 47. She returned to school for a refresher course and built a new clinic when her son became a chiropractor.
"Once the clinic was going good, my son moved to California, and I ran the practice on my own," she says.
Nichols felt confined in the clinic, and when her chiropractor son-in-law agreed to take over the business, she became a Trailways' tour director. She led 48 domestic and foreign tours, returned to Paola in the mid-'70s and served two separate two-year terms on Paola City Council, including six months as mayor (due to a health-related resignation).
In 1981 she became a housemother and worked at Kansas, Arizona, Indiana and Kansas State universities. In 1989, she and a friend developed and led workshops on nutrition and etiquette for professional housemothers all over the U.S.
"I became known as 'Mrs. Etiquette.' It was great fun," she says.
She returned to KU in 2005.
"I've had a wonderful and varied life," Nichols says.
"My theme song is, 'I'll go where you want me to go, Lord,' and I want to keep going for as long as I can."
Copyright 2018 The Lawrence Journal-World. All rights reserved. This material may not be published, broadcast, rewritten or redistributed. We strive to uphold our values for every story published.