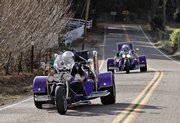 Los Angeles — Arthur McCoy didn't let the amputation of a leg because of cancer stop him from riding motorcycles. The solution to his disability came in the form of a third wheel.
McCoy is among a growing group of aging motorcyclists taking up trikes: three-wheeled motorcycles that provide the stability and nearly all the comforts of a car while still allowing riders to feel the wind in their face.
"For us older folks, it's better on three wheels than two," said McCoy, now retired from a maintenance job. "You don't have the tendency to fall over."
A motorcycle rider since the 1960s, the 71-year-old from Lomita said his customized trike has made it possible for him and his wife, Dora, to go on long-haul trips to Arizona, Texas, Arkansas and Virginia at least once a month. They are members of Brothers of the Third Wheel, an international club for trike enthusiasts.
Motorcycle industry experts say they expect to see more trikes on the road in the coming years as baby boomers, the largest group of motorcycle owners in the country, age out of their two wheelers.
"Boomers are a very important segment of the motorcycle market," said Ty Van Hooydonk, a spokesman for the Motorcycle Industry Council. "They are staying more active than past generations."
People born between 1946 and 1964 make up 43 percent of motorcycle owners in the U.S., or 4.5 million out of 10.4 million, according to a 2008 survey by the Irvine-based trade group.
Trikes allow riders with arthritis, back pain and other physical ailments to go on long-distance rides comfortably. Some come with reverse gears so riders don't have to push the motorcycles into a parking space.
Their ample size makes them hard to miss.
"People in cars tend to ignore motorcycles. Trikes are a fairly big and therefore more visible," said Jim McGrath, 75, of Chula Vista, whose bright red, low-riding Rewaco trike measures 12 1/2 feet long and 6 feet wide.
He also relishes the attention he gets on the road.
"It's a real traffic stopper," the retired aerospace engineer said. "You pull into a gas station, and people want to talk about it."
McGrath's daughter Sharon Sisemore, another trike rider, added that in heavy traffic she doesn't have to worry about putting her feet down to balance.
"There are several advantages, and you still get to have the 'knees in the breeze, the bug in your teeth' feeling," said Sisemore, 51. "You're exposed; you're out there in the elements. That's part of the fun."
Copyright 2018 The Associated Press. All rights reserved. This material may not be published, broadcast, rewritten or redistributed. We strive to uphold our values for every story published.