Photo Gallery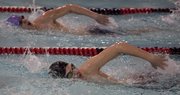 Swimming: Lawrence High Invite
It was apparent early during Thursday's six-team swim spectacular at Lawrence High that the meet quickly would become a battle at the top between LHS and Washburn Rural.
The fact that the Lions were competing for first was something of a surprise to LHS coach Kent McDonald.
"To be honest, coming in I thought it would be a battle between us and Topeka High for second," McDonald said. "Washburn Rural has three really good swimmers, and I thought they'd be out of sight. But we hung in there."
In the end, the Lions did finish in second place, but left the pool encouraged by the way they battled Washburn Rural throughout the meet.
"The whole team really stepped it up a notch today," said LHS sophomore Zach Andregg, who took first in the 500 freestyle (5:00.44) and swam a leg on each of the Lions' second-place relay teams. "That's what kept us up there the whole night. The bulk of our team really pushed for first."
Although LHS finished on top in just two of the night's 12 events, McDonald said his group's second-tier swimmers impressed the entire way.
"It wasn't necessarily our top guys, but our second and third swimmers who really brought us up," McDonald said.
One of those was senior Dan Carter, who happily admitted to being in the team's second tier but also happily recounted all 55 seconds of his 100 freestyle.
Carter entered the day with a personal-best time in the 100 free of just under 58 seconds. By the time he hopped out of the pool after finishing fourth in his signature event, Carter's new PR read 55.63.
"That actually really encouraged me," Carter said. "Now I can start looking at the state-consideration time. Usually us non-Zach Andregg-type swimmers only qualify for state in relays."
Carter's nod to Andregg's dominance was said with a smile and in no way was meant to suggest division between teammates. If anything, Thursday's meet showed that this group of Lions is as close as any.
"When I got done with the 100, I went back to our area, and the whole team was like, 'Man, 55,'" Carter said. "That was nice. But, really, we all know each other's times and events, and any time someone PR's, the rest of the guys go right up to them to congratulate them."
Added Andregg: "We definitely can have a lot more guys at state this year, and that's exciting."
In addition to Carter and Andregg's strong finishes, a few other Lions turned in highlight-type nights Thursday. Freshman Nathan Evers took first in the 100 butterfly (58.54) and fourth in the 200 individual medley (2:16.63); Andregg was second in the 200 free (1:52.24) and was joined in the event by Roy Wedge in fifth (2:09.17) and Carrick Finnegan in sixth (2:14.41); Jonathan Gabler finished sixth in the 50 free (25.42); Drew Branstrom was third in the diving with 171.8 points; Noel Fisher took fifth in the 100 fly (1:09.6); Reid Hildenbrand was fourth in the 500 free (6:00.23); Adam Edmonds (third, 1:01.51) and Joshua Shump (fifth, 1:10.82) excelled in the 100 backstroke; and Calvin Morgan (1:14.64), Eric Long (1:17.49) and Linus Roepert (1:17.64) swept fourth through sixth in the 100 breaststroke.
Copyright 2017 The Lawrence Journal-World. All rights reserved. This material may not be published, broadcast, rewritten or redistributed. We strive to uphold our values for every story published.