Photo Gallery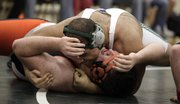 Free State wrestling vs. Shawnee Mission NW
Free State wrestler Jake Brown hasn't had the best luck lately against Shawnee Mission Northwest's Ed Spaunhorst.
In fact, the last five times Brown and Spaunhorst squared off, the Cougars senior walked away with the victory.
In Wednesday night's dual at Free State, however, Brown stopped the streak.
The junior caught Spaunhorst in a headlock and scored the pin for a long-awaited victory over the Cougars senior. Unfortunately for the Firebirds, it wasn't enough in the grand scheme of the dual, and Free State fell, 42-33.
It was a night Brown would remember, though.
"I didn't want to lose at home," said Brown, who competed in the 140-pound weight class. "I just put that in perspective and went as hard as I could and got myself ready to go before the match."
Whatever Brown did before the match, whether it was his music selection — the junior listened to rapper DMX for added energy — or visualizing his moves on the mat, it worked.
After taking an early 2-0 advantage, Brown pinned Spaunhorst with 55.8 seconds remaining in the first period. So after losing to Spaunhorst five times, it only took Brown a minute and change to score the pin.
Brown said he wasn't planning on winning the match with a headlock, but he took advantage of the situation. And scared his coach a little bit.
"The headlock is not a high-percentage move, so I wasn't confident in it until (Brown) had (Spaunhorst) close to his back," Free State coach Paul Lappin said. "And then the blood starts pumping. I got excited. He finished it for us, and that's what we needed him to do."
Brown could be on the verge of breaking out for the Firebirds. His sophomore season came to an end because of a shoulder injury two weeks before regionals last year. This season, it has taken some time to hit his stride, but Wednesday night suggested he might be ready for the latter part of the season.
"He got some kind of fire in his belly this past weekend," Lappin said of Brown. "He went 1-2 (at Basehor-Linwood Bobcat Classic), but he wrestled the best I've ever seen him wrestle. He's a lot more fluid now instead of thinking so much."
Free State also scored victories Wednesday from sophomore Kamp Wiebe (103-pound weight class), junior Mitch McCune (152), junior Chase Fraser (171), senior Spencer Chestnut (189) and senior Ammon Austin (285).
"It started off kind of slow, and you get that sick feeling in your stomach," Lappin said, after the Firebirds lost four of the first five matches to trail, 27-6. "It hurts losing, period. But I've been talking a lot this week about these guys battling, and some of these guys stepped up."
Free State will compete in the Paola Invite at 9:30 a.m. on Saturday.
Copyright 2018 The Lawrence Journal-World. All rights reserved. This material may not be published, broadcast, rewritten or redistributed. We strive to uphold our values for every story published.