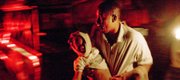 A 7.0 magnitude earthquake occurred 10 miles southwest of Port-au-Prince on Jan. 12, causing widespread devastation in Haiti's capital and throughout the country.
Photo Gallery
Earthquake strikes Haiti
Plymouth Congregational Church and Ecumenical Christian Ministries will be host to a gathering at 1:30 p.m. Sunday at 925 Vt. in support of people affected by the Haiti earthquakes.
Community members are invited to offer prayers or contributions for victims of the disaster.
Copyright 2018 The Lawrence Journal-World. All rights reserved. This material may not be published, broadcast, rewritten or redistributed. We strive to uphold our values for every story published.