A Douglas County jury on Friday convicted a 22-year-old Lawrence man in the February 2009 rape of an 11-year-old girl.
Jurors deliberated the fate of Eric M. Ochs for about three hours before they convicted him of the rape charge.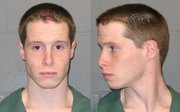 The victim said Ochs had sex with her Feb. 6 at her North Lawrence home. The defendant was baby-sitting the girl and her siblings while her parents were out of town at a casino. Lawrence police have said the suspect admitted inappropriately touching the girl.
During closing arguments Friday, defense attorney Kevin Babbit said officers coerced the defendant into making those statements and the DNA evidence in the case did not match the charges from prosecutors.
Ochs took the stand in his defense.
In her closing arguments, Amy McGowan, a chief assistant Douglas County district attorney, told jurors the victim's testimony in the case matched scientific evidence in the case.
"He committed the crime of rape in her room that night," McGowan said.
District Judge Michael Malone revoked the defendant's bond and scheduled his sentencing for 3 p.m. Feb. 26.
Cheryl Wright, a district attorney's office spokeswoman, said that because the victim was younger than 14, "Jessica's Law" applies in the case and Ochs faces a minimum sentence of 25 years in prison.
Copyright 2018 The Lawrence Journal-World. All rights reserved. This material may not be published, broadcast, rewritten or redistributed. We strive to uphold our values for every story published.