Photo Gallery
Earthquake strikes Haiti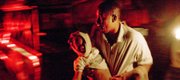 A 7.0 magnitude earthquake occurred 10 miles southwest of Port-au-Prince on Jan. 12, causing widespread devastation in Haiti's capital and throughout the country.
As a 7.0-magnitude earthquake devastated Haiti on Tuesday, it left people in northeast Kansas with no reliable way to contact loved ones still in the country.
Beth Buhler, a Lawrence resident, and her family were calling anyone they could Tuesday night looking for information on her son, Adam Buhler, 24, a Kansas University student, and his wife, Karen, who is pursuing a KU master's degree.
The couple had traveled to the country to help build a school. Adam had previously been scheduled to go on a mission to Haiti for his church, but after travel issues to Haiti arose, he worked in the Bahamas and in Florida instead.
Finally, Buhler got word that they were safe, after the couple was able to call out using a satellite phone from a United Nations compound.
Buhler said that Tuesday night was "the worst," but she felt relieved to know that the couple had survived the quake and looked forward to their coming home.
"We're very blessed. We're fine, " she said. "I don't know when I'll see them, but we'll see them, and that's all that matters."
Adam, an accounting major who worked as a photographer for the University Daily Kansan, has maintained a blog throughout their trip, and his mother said she hoped they would be able to update their situation as soon as they can get Internet access.
Joe and Shirley Edgerton, two missionaries from Central United Methodist Church in Lawrence, are in Haiti and have communicated to fellow church members after experiencing the earthquake.
"We've received word that they are OK," said Karen Curl, a member of the church, 1501 Mass.
After finishing a two-year mission trip in October, the couple last week returned to Port-au-Prince to meet with the Haitian Methodist Church about future mission projects, local church workers said.
The couple's mission quickly changed to disaster relief after the earthquake, said Julie Pohl, disaster response coordinator for the United Methodist Church Kansas East Conference. Pohl and other church members have been in contact with the Edgertons via e-mail.
In addition to impacting those with family members traveling in the area, the disaster left Haitian immigrants trying to reach family back home. Jean Benito Mercier, a lecturer at KU who teaches the Haitian Creole language, said he had received no word Wednesday afternoon from his parents, siblings, cousins and other extended family living in the country.
"I've tried many ways to get in touch with people down there. It's completely impossible," said Mercier, who was born in the capital of Port-au-Prince. "I don't know what to think. I don't want to speculate too much."
Alyssa Esperance, a Lawrence resident, said she had been trying to reach her husband's family. Her husband, Fritz-Gerald Esperance, was traveling Wednesday and had been trying to reach his sister, father and other extended family members.
Web sites like Twitter and Facebook have provided some updates from the scene, Alyssa said. She's been using them to post names, streets and neighborhoods of her family members to see whether anyone has any information to share.
"It's comforting to know that we're not the only ones holding our breath," she said.
Jane Blocher, executive director of the Douglas County chapter of the Red Cross, said she had been fielding calls from people interested in assisting with the effort and looking to contact loved ones.
Anyone interested in offering support for those impacted by the earthquake should donate money, and not items such as food, clothing or supplies, which are cost-prohibitive to ship, Blocher said.
"The easiest way to help is through a financial gift, directly to the impacted area," Blocher said.
Bryant Freeman, a KU professor emeritus who has studied Haiti for 52 years, said he had traveled to the country frequently throughout that time. He still hadn't heard from an adopted son in the country as of Wednesday afternoon.
"People don't appreciate the enormity of this tragedy," he said. "Everything in Haitian life is centered around Port-au-Prince. It wouldn't be as if Washington were destroyed, or if New York were destroyed. It would be as though all our major cities were destroyed."
Copyright 2018 The Lawrence Journal-World. All rights reserved. This material may not be published, broadcast, rewritten or redistributed. We strive to uphold our values for every story published.