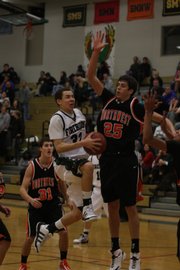 The Free State boys basketball team had trouble accounting for the balance of SM Northwest, which had four players score in double digits, in the Firebirds' 61-49 loss on Tuesday at home. Senior forward Steve Carver led the Cougars with a game-high 19 points. The 6-foot-8 Carver will play college ball at Holy Cross next season.
"Steve's as good a player as there is in the league," Free State coach Chuck Law said. "That's why he's going Div. I. He's a hard guard because he can play outside, he can post, he boards well. And they don't do anything to beat themselves. They never have. They never will. And that's the difference."
Free State trailed by double digits most of the night (32-21 at half, 47-31 after three quarters). The Firebirds mounted rallies, however, mostly with full-court pressure that caused turnovers. As a result, the Cougars ended up with more gaffes (17) than the Firebirds (16). Junior Eric Watson ignited FSHS (3-4) with 13 points, but SM Northwest (5-2) had too much balance.
"We found a way to kill our own rallies every single time we had a chance, either with back-to-back turnovers, missing relatively easy shot opportunities or not getting defensive rebounds at a critical juncture," Law said.
Free State will play host to Olathe North at 7:30 p.m. Friday.
Copyright 2018 The Lawrence Journal-World. All rights reserved. This material may not be published, broadcast, rewritten or redistributed. We strive to uphold our values for every story published.