Photo Gallery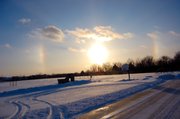 Winter Weather 2009-10
Winter Weather
Winter weather information
5:00 a.m.
Bitterly cold temperatures and gusting winds await northeast Kansas commuters this morning. As of 5:00 a.m., the temperature in Lawrence is sitting at zero degrees, with a wind chill of 11 below zero.
The frigid conditions have not helped road crews in their efforts to clear roadways.
A look at the status of area roads for Friday's a.m. commute, according to the Kansas Department of Transportation:
• Interstate 70 is completely snowpacked.
• Kansas Highway 10 is partly snowpacked.
• U.S. Highway 59 has drifting snow.
• U.S. Highway 24 has drifting snow.
• U.S. Highway 56 has drifting snow.
Midnight
Crews cleared many of Lawrence's main roads on Thursday, but the Clinton Lake Dam road remained closed overnight. Lawrence police said they were not aware whether any effort would be made to clear the road before Friday morning.
Road cleanup crews were dispatched to particularly icy spots near 31st and Louisiana streets and on exit ramps along Kansas Highway 10.
Thursday night, the Kansas Department of Transportation listed stretches of K-10 and Interstate 70 as completely snowpacked in Douglas County. Highway 59 was listed as having drifting snow.
Frigid temperatures in the next several days will make road crews' jobs even more difficult by slowing melting. According to 6News Chief Meteorologist Matt Elwell, temperatures will not top 20 degrees before Sunday and wind chills could dip as low as 30 below zero this weekend. The National Weather Service has placed Douglas and surrounding counties under a wind chill warning, effective through noon Saturday.
Temperatures are projected to rise into the low 20s Sunday before jumping into the low 30s early next week.
4:48 p.m.
City crews have spent the day clearing residential streets and re-clearing priority streets that have been blown closed again.
Round-the-clock operations will continue at least through this evening to get to all residential areas. A contracted crew will also be working to clear snow.
The frigid temperatures, which do not allow chemicals to work as effectively for melting snow and ice, are leaving some priority routes still partly to completely snowpacked.
Anyone in Lawrence with questions about snow clearing operations can call (785) 832-3031 until midnight tonight.
4:21 p.m.
Police Sgt. Michael Monroe said 33 vehicle accidents occurred in Lawrence from noon Wednesday when snow started falling to 3:30 p.m. Thursday.
Three of the 33 were minor injury accidents.
3:59 p.m.
Citing blowing snow and slick conditions, officials are closing E900 Road over the Clinton Lake Dam.
Individuals will still be able to access the area via E902 Road, which runs beneath the dam.
There are no other road closures in Douglas County at this time.
Copyright 2018 The Lawrence Journal-World. All rights reserved. This material may not be published, broadcast, rewritten or redistributed. We strive to uphold our values for every story published.