Photo Gallery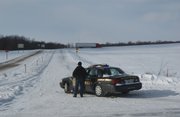 Jan. 6 Winter Storm
Photo Gallery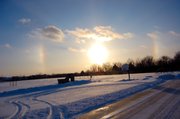 Winter Weather 2009-10
Winter Weather
Winter weather information
Kansas weather updates, via Twitter
4:48 p.m.
City crews have spent the day clearing residential streets and re-clearing priority streets that have been blown closed again.
Round-the-clock operations will continue at least through this evening to get to all residential areas. A contracted crew will also be working to clear snow.
The frigid temperatures, which do not allow chemicals to work as effectively for melting snow and ice, are leaving some priority routes still partly to completely snowpacked.
Anyone in Lawrence with questions about snow clearing operations can call (785) 832-3031 until midnight tonight.
4:21 p.m.
Police Sgt. Michael Monroe said 33 vehicle accidents occurred in Lawrence from noon Wednesday when snow started falling to 3:30 p.m. Thursday.
Three of the 33 were minor injury accidents.
3:59 p.m.
Citing blowing snow and slick conditions, officials are closing E900 Road over the Clinton Lake Dam.
Individuals will still be able to access the area via E902 Road, which runs beneath the dam.
There are no other road closures in Douglas County at this time.
3:13 p.m.
Schools across our area have been canceling Friday classes all day, and Lawrence USD 497 just joined in.
Citing blowing and drifting snow, the school district canceled Friday classes.
Check out the rest of our closings and cancellations
1:54 p.m.
Here's the latest road condition information for Douglas County's highways:
U.S. Highways 59, 56 and 40 are all classified as having "drifting snow." Kansas Highway 32 just east of the Douglas County line is in similar condition.
Kansas Highway 10, U.S. Highway 24 and the Kansas Turnpike are all classified as "completely snowpacked."
Most major City of Lawrence streets have been treated and there is reasonably clear pavement where traffic is moving. Turn lanes, residential streets and less well-travelled city streets all have varying levels of snow on them.
You can post detailed road condition reports in the comments below.
11:24 a.m.
Here are some snowfall totals from our area:
West Lawrence: 5.1 inches
East Lawrence: 3.5 inches
Lecompton: 4.0 inches
Ottawa: 3.5 inches
7:52 a.m.
Here's the latest road condition information for area highways, from the Kansas Department of Transportation.
Douglas County:
All Interstates, U.S. and state highways are completely snowpacked.
Shawnee County:
The Kansas Turnpike is completely snowpacked.
Other Interstates, U.S. and state highways are considered partly snowpacked.
Kansas City-metro area:
All Interstates, U.S. and state highways are completely snowpacked.
KDOT provides continuously updated road conditions information.
7:40 a.m.
The National Weather Service has shuffled our watches and warnings overnight.
We are no longer under a winter storm warning or wind chill watch. Instead, the weather service has upgraded us to a wind chill warning beginning this afternoon and downgraded us to a winter storm advisory.
According to the weather service, sustained winds of 20 to 30 mph are likely today, with gusts to 35 mph. Windchills of -15 to -35 are expected today through Saturday. Outdoor activity is strongly discouraged while the wind chill warning is in effect, which is until noon Saturday.
The weather service also cautions that blowing snow may make some roads impassable, including some that had already been cleared.
7:17 a.m.
As of 6:30 this morning, City of Lawrence crews have plowed and treated all collector and arterial streets at least once, according to a statement from Tom Orzulak, who heads the city's street clearing operations. He cautioned, however, that even plowed roads remain snowpacked and treacherous.
"Exercise extreme caution when driving today and remember to slow down," he said.
Beginning before dawn, city crews and also those hired from a private contractor began working to clear residential areas. That work is expected to continue all day today. The city asks all residents to move vehicles all of city streets to make street clearing operations easier.
Orzulak said the city received about four inches of snow. With the prediction of strong winds today, that four inches of snow will be blown around, creating large drifts and re-covering roads that have already be cleared.
Stay with LJWorld.com for all the latest updates.
5:00 a.m.
Most area roads remain completely snowpacked as the morning commute approaches.
A look at some road conditions, as reported by the Kansas Department of Transportation:
• Interstate 70 is completely snowpacked from west of Topeka to the Missouri border.
• Kansas Highway 10 is completely snowpacked from Lawrence to the greater Kansas City area.
• Highway 24 is completely snowpacked from west of Topeka to the Missouri border.
• Highway 59 is completely snowpacked from Lawrence to Baldwin City.
2:50 a.m.
Moving into Thursday's early morning hours, the snow in the Lawrence area has stopped, with only flurries to come in the next few hours, according to the National Weather Service.
Temperatures have dipped to dangerous levels. At 2:45, it is 8 degrees in Lawrence with a wind chill of 6 below zero. The National Weather Service projects wind chills could drop to anywhere between 12 and 17 below zero this morning before getting even colder as the day progresses.
It's important to remember wind chills this extreme are not just inconvenient, they can be seriously harmful. Dr. Darin Elo, a doctor at Lawrence Memorial Hospital, suggests staying indoors and covering your face if you must go outside.
12:03 a.m.
Snowfall has tapered off in Lawrence, but that doesn't mean conditions have improved much.
Wind gusts of greater than 20 miles per hour are blowing snow across roads and obscuring visibility. According to an officer chatting on the Douglas County Emergency Dispatch scanner just before midnight, visibility along stretches of Highway 40 was down to about 30 feet.
According to 6News Chief Meteorologist Matt Elwell, the snow should hold off while winds and cold temperatures will stick around. Elwell projected Thursday's high temperature at 5 degrees, with wind chills dipping as low as 20 below zero. The National Weather Service recommends packing extra blankets, water, clothing and a flashlight if you must travel under these adverse conditions.
9:14 p.m.
Wednesday's winter weather — high winds and periods of heavy snow — has made driving on area roads treacherous.
According to the Douglas County Sheriff's Office, two injury accidents and 23 non-injury accidents occurred in Douglas County after noon Wednesday. Twenty-six vehicles slid off roads or stalled in the snow.
Jordan Seaburn, who drove Interstate 70 Wednesday afternoon from Kansas City to Lawrence, said traffic was moving about 45 miles per hour.
8:25 p.m.
Visibility in downtown Lawrence has declined to 3/4 of a mile with winds blow sustained at 15 mph.
About three inches of snow accumulation have been reported in Lawrence so far.
6:24 p.m.
Road conditions continue to deteriorate in Lawrence and Douglas County.
The Kansas Department of Transportation declares all roads in Douglas County as completely snowpacked. Local crews have done some plowing and will continue to treat roads through the night.
6News Chief Meteorologist Matt Elwell said snow will end before rush hour on Thursday, but roads could still be slick. Elwell said the biggest concern would be strong winds whipping up the snow and limiting visibility on the roads.
5:25 p.m.
Closings are coming in steadily, with Lawrence schools calling off classes for the first time this year. Other school districts that are closed for Thursday include: Bishop Seabury Academy, De Soto USD 232, Ottawa USD 290, Tonganoxie USD 464, Eudora USD 491, Lawrence USD 497, Corpus Christi Catholic School, Raintree Montessori School and Children's Learning Center.
You can see all of the weather-related closings on our closings page.
6News Chief Meteorologist Matt Elwell said Lawrence has had between 1 and 2 inches of snow accumulation so far Wednesday, with an additional 1 to 2 inches of snow likely before the snow storm moves out of the area late tonight.
4:28 p.m.
Lawrence snow crews have been treating roads with a mixture of sand and salt throughout the morning and are now focused on clearing the streets. Their top priority is arterial roads, followed by "collector roadways." The city advises that roads are still very slick and motorists should exercise extreme caution when driving in the snow by driving slowly.
After the snow has stopped falling Wednesday evening, crews will continue to clear priority routes and begin plowing operations in residential neighborhoods.
The city will have help clearing roadways in residential areas on Thursday morning. An outside contractor will bring in equipment to plow and remove snow from residential streets. The Utilities Department will assist the street maintenance division with plowing. The Parks and Recreation Department will focus on parks facilities and downtown Lawrence sidewalks.
Copyright 2018 The Lawrence Journal-World. All rights reserved. This material may not be published, broadcast, rewritten or redistributed. We strive to uphold our values for every story published.