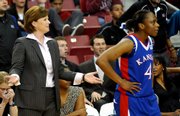 Las Cruces, N.M. — Krysten Boogaard shook off effects of the flu and posted a double-double Sunday afternoon.
Unfortunately for Kansas University's women's basketball team, Boogaard didn't have enough help, and New Mexico State stunned the No. 21-ranked Jayhawks, 61-60, in the Pan American Center.
"That's a credit to her toughness," KU coach Bonnie Henrickson said of Boogaard's 15-point, 10-rebound outing. "But she was flying solo. She didn't have anyone on the bus with her."
A few of her teammates who weren't on the bus were thrown under it by Henrickson — including All-America candidate Danielle McCray.
"It's not the bench," Henrickson said. "It's those kids who play all the minutes."
Forward Aishah Sutherland had a game-high 11 rebounds, but missed nine of 11 shots, mostly chippies. And point guard Angel Goodrich misfired on eight of 10 shots, half of them layups.
Then there was McCray.
She wound up with a team-high 16 points, but her performance was the antithesis of the last time the Jayhawks were on the road and the 5-foot-11 senior scored a career-high 37 points against Houston.
Against the unranked Aggies, McCray made only six of 17 shots, was 2-of-6 from the free-throw line and was charged with six turnovers.
"Danielle has to have more poise that that," Henrickson said. "All-Americans do it every night. She has to be more consistent."
It was also McCray who fouled the Aggies' Crystal Boyd with :00.8 on the clock and the score knotted at 60. Boyd missed the first charity, but nailed the second for the game-winner.
Boyd, a former McDonald's high school All-American who transferred to N.M. State after three injury-plagued seasons at Texas University, scored 25 points, 20 in the first half. And juco transfer Jasmine Lowe scored 16 points, 12 in the second half.
"We can't guard their kids," Henrickson said. "They played us one-one-one, and we can't guard them — one in the first half, one in the second half."
Yet of all the Jayhawks' shortcomings Sunday, the most glaring was at the free-throw line, where KU made only 10 of 19 while the Aggies drilled 15 of 20.
"You've got to make free throws," Henrickson said. "To win on the road, you have to make free throws, and that was the difference in the game."
From the field, KU shot only 38.3 percent (23-of-60) and was credited with just eight assists — five by Goodrich and three from McCray. The Jayhawks had been averaging 16.9 assists per game.
New Mexico State, a 42-point loser to Kansas last year in Lawrence, hiked its record to 10-4, while the Jayhawks slipped to 10-3.
"We looked like a young team," Henrickson said. "We were mad because we were missing shots, and we didn't guard. We've got to grow up and have some toughness."
Kansas will have to go on the road again Saturday when it opens Big 12 Conference play at Kansas State.
Copyright 2018 The Lawrence Journal-World. All rights reserved. This material may not be published, broadcast, rewritten or redistributed. We strive to uphold our values for every story published.