Right about now you're probably thinking about those resolutions vowing to eat better, cook more and shed the holiday pounds.
To help you get started — and spend that gift card from your mother-in-law — here's the latest healthy-eating, better-living cookbooks.
• "Moosewood Restaurant Cooking For Health," the latest installment from the Moosewood Collective, offers more than 200 creative, easy-to-prepare vegetarian and vegan recipes. Greek-tomato yogurt soup delivers a tasty, tangy take on ordinary tomato soup and packs a big calcium and lycopene punch in just 30 minutes. Four stovetop tofus — including pomegranate-glazed and tropical lime — make creative use of the potentially boring staple. Love the info on calories, carbs, protein and other nutrients with each recipe.
• "Eating Well: 500-Calorie Dinners" screams "New Year's resolution." Part cookbook, part cheerleader, the book combines a seven-step weight loss plan with meals that clock in at 500 calories or less. Dishes such as broccoli and goat cheese souffle and mini-meatloaves take the guesswork out of portion control by being prepared in individual servings.
Recipes abound for shrimp and scallops. There's also lamb chops, steak with gorgonzola and caramelized onions, and mozzarella-stuffed turkey burgers. And who knew hot fudge pudding cake could have only 142 calories?
• In "The Kind Diet," actress Alicia Silverstone promises to help you feel great, lose weight and save the planet. Silverstone pairs arguments for veganism with pictures of cute chicks (the poultry sort) and piggies, and wraps up with recipes for dishes such as radicchio pizza with truffle oil, pecan-crusted seitan and egg salad sandwiches made of tofu.
• "Clean Food" by Terry Walters is designed to help you adjust your lifestyle, changing not just what you eat, but how and when you eat, and the way you think about it. More than 200 recipes organized according to season make use of whole grains, legumes, sea vegetables, nuts, seeds and seasonal produce in healthful and innovative ways.
Spring features Swiss chard with roasted golden beets and seared fennel with Meyer lemon. Winter brings roasted kabocha squash with kale, seitan bourguignon and chestnut cream pie made with rice milk. Doable, appealing recipes with very few funky ingredients.
This recipe from Alicia Silverstone's "The Kind Diet," a beautifully photographed ode to healthier eating, is whole grain and vegan, but tastes decadent.
If you buy raw walnuts, toast them by spreading them on a baking sheet. Place them in a 350 F oven for 8 to 10 minutes, or until the nuts are lightly browned and fragrant. Stir the nuts once or twice as they toast.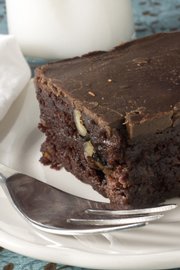 COFFEE FUDGE BROWNIES
For the brownies:
3/4 cup whole-wheat pastry flour
3/4 cup brown rice flour
1/2 cup unsweetened cocoa powder
1 teaspoon baking powder
1 1/2 teaspoons baking soda
1 teaspoon salt
1 1/2 cups maple sugar
3/4 cup soy/rice milk blend (or any nondairy milk)
3/4 cup brewed decaf coffee
1/2 cup canola oil
1/2 cup walnuts, toasted and chopped
For the glaze:
1 1/2 cups grain-sweetened, nondairy chocolate or carob chips
1/2 cup Earth Balance (or other vegan) butter
Heat the oven to 325 degrees. Coat an 8- or 9-inch-square baking pan with oil or cooking spray.
In a large bowl, sift together both flours, the cocoa powder, baking powder, baking soda and salt. Stir in the maple sugar.
In a separate bowl, stir together the milk, coffee and oil. Add the wet ingredients to the dry ingredients, and stir to mix well. Stir in the walnuts, then pour the batter into the prepared pan. Bake for 25 to 30 minutes, or until a toothpick inserted at the center comes out clean.
Place the pan on a wire rack to cool completely.
Once the brownies have cooled, prepare the glaze. In a small saucepan bring about 1 inch of water to a boil. Set a stainless steel bowl over it. Add the chocolate chips and butter to the bowl and stir until melted and smooth.
Pour the warm glaze over the entire pan of brownies, smoothing it over the surface. Chill until the glaze has set, about 1 hour. Serves 12.
Copyright 2018 The Lawrence Journal-World. All rights reserved. This material may not be published, broadcast, rewritten or redistributed. We strive to uphold our values for every story published.