This is the first story in a series that follows 18-year-old Katie Schimmel's journey into motherhood. Read the second story.
On a bitterly cold December morning, 18-year-old Katie Schimmel and her boyfriend Mike Glynos are dropped off at Lawrence Memorial Hospital by Mike's mom, Monique Glynos.
Still recovering from a drama-filled night, the couple walks to the hospital's Family Birthing Center, where Katie is scheduled to be induced into labor.
By midmorning, Mike's dad, Brent Stephens, has arrived from Kansas City. So has Aubrey McClelland, Katie's 15-year-old friend who has skipped a day at Central Junior High School to attend the birth.
Between a series of contractions, Katie talks about what happened the night before.
Her dad was mad that she planned to give the baby Mike's last name. It was a fight that ended with Katie moving everything but her clothes out of her dad's mobile home.
"I'm not on talking terms with my dad," she says just before stronger labor pains take over.
In a few hours, Katie becomes a mother.
Born into a life of flux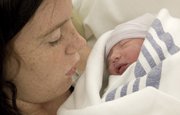 Eighteen years old and pregnant, Katie Schimmel's life was about to change forever. For four months, we followed Katie's journey to motherhood.
For four months, the Journal-World and 6News followed Katie as she prepared for and took on the responsibility of teenage motherhood. During that time, her life was roiling with change — from her on-again, off-again relationship with Mike to her health. She had five trips to the emergency room for false labor pains.
Katie received assistance from several social service agencies, accepted frequent advice from her best friend and fellow teenage mom, Marissa Carley, and bounced between living in her father's mobile home and Monique Glynos' duplex.
For much of the experience, Katie described herself as a single mom who was on her own.
After years of steadily dropping, the number of teens having babies is rising in Kansas. Out of 1,000 girls ages 15 to 19 in Kansas, 45.6 had a baby in 2008. The birth rate has gone up by 12 percent since 2004.
Life circumstances place teen moms on the lowest rung of the social ladder.
Children born to mothers like Katie — an unmarried teenager who dropped out of high school — are nine times more likely to grow up in poverty.
The grim statistics continue.
The children of teen parents are twice as likely to suffer from abuse and neglect, are 50 percent more likely to repeat a grade and are less likely to finish high school. Sons of teen mothers are twice as likely to end up in prison, and daughters are three times more likely to become teen mothers themselves.
"Teen mothers are working heroically to try to do well by their kids, and many are succeeding," said Bill Albert, a spokesman for the National Campaign to Prevent Teen and Unplanned Pregnancy. "But overall the majority, unfortunately, don't fare well. And some of the worst consequences tend to attach themselves to their children."
'As best as I can'
Four and a half months before the baby is born, in early fall, Katie has a routine physical as part of her job as an assembly line worker at Packerware. The doctor feels her stomach and says she needs to take a test.
Marissa, Katie's best friend who had a baby boy in June, knows exactly what kind of test it would be.
"I know that face — you are pregnant," Marissa tells her friend when she sees the doctor's reaction.
"And (the doctor) comes back and he is like, yeah, you're pregnant," Katie says. She's already halfway through the pregnancy.
Katie had dropped out of high school last spring and was living with her dad in a mobile home park off Michigan Street. At this time, she isn't talking to the baby's father.
"I was sitting there in shock. I am speechless and (Marissa) is telling everyone. And I am like, please don't tell anyone because I don't want to tell my parents," she says.
Katie doesn't break the news to her parents, but they find out. One day, her dad comes home from work and asks her if she is pregnant.
"And I'm like, yeah. And then he never really asked me anything else," she says. "My mom, she is not too happy about it. But she lives in Florida and I really don't talk to her much. So it doesn't really bug me."
Katie makes this remark in late November, three weeks before the baby is due. In a T-shirt and gray sweat pants, she is curled up in the living room chair and holding a brown and black kitten named Dr. Pepper that she has recently taken in.
She lists off all the baby supplies she still must purchase — bottles, blankets, more baby clothes. So far, she has tallied up $2,500 in unpaid medical bills for prenatal care and is applying for coverage under the state's HealthWave program.
She plans on moving out of her dad's mobile home and into an apartment with her boyfriend when the baby comes. After two months of not wanting anything to do with the baby, Katie says Mike is beginning to show interest. He has just applied for a job at McDonald's.
Her greatest worry lies firmly on the baby's health — and the birth.
"If something ends up happening and then I get blamed for it, people are going to be like, you should have taken care of his health better," Katie says. "I take care of it as best as I can."
While she was pregnant and didn't know it, Katie says she rode roller coasters, was around cigarette smoke and did a little bit of smoking herself. She wonders how she hasn't miscarried.
"And they are telling me the baby is in perfect health, and I'm like, how is that possible?" she says.
What to expect
Most women know they are pregnant in the first six to eight weeks. At that point, they are conscious of what they are eating and taking prenatal vitamins, said Kathy Gaumer, an obstetrics-gynecology specialist at Lawrence Memorial Hospital, 325 Maine.
On the other hand, many of the teen moms she sees don't find out they are pregnant until 16 to 20 weeks.
That puts teen moms at a disadvantage for providing proper nutrition to their babies. Compounding the problem, teenagers are still developing themselves, are prone to sporadic and unhealthy eating habits and tend to be concerned about gaining weight.
"They just aren't used to taking care of themselves," Gaumer said.
Teen moms have a higher risk of delivering babies prematurely and at lower birth rates. They also have more of a likelihood of developing preeclampsia, which is pregnancy-induced hypertension that can only be cured through delivery.
High-risk pregnancy
Katie's pregnancy is high-risk, partially because she didn't discover she was pregnant until the 20-week mark. She also has epilepsy and suffers from seizures.
Her worry over the baby's health is somewhat eased during a doctor's visit in early November when she learns the baby weighs 4 pounds, 7 ounces. During the previous check-up, the baby's weight was estimated at under 2 pounds.
As Julie Morris, the hospital's registered diagnostic sonographer, runs a transducer over Katie's stomach, Katie looks up at the screen and reaches for Mike's hand.
While the baby's weight is below average, Morris assures the parents that "everything is where it is supposed to be" and the baby is breathing.
Katie chatters on about a pending visit to Minnesota's Mall of America, a trip she wants to squeeze in before the baby comes.
She is trying to get a job at Walmart and still needs to figure out how to put the crib together. She says she's ready for the baby to come so she can "go back to being skinny."
She has experience working with children in her mother's day care business and has helped her friends who have babies.
"I pretty much know what to do," she says. "It is not really going to bug me."
Mike, who remains silent for most of the doctor's visit, admits he's nervous about the baby's arrival.
"It's just something most people don't plan on doing when they are 18," he says.
Preparing for the baby
In a thick white binder, Katie keeps track of her pregnancy. It holds sonogram pictures, a list of what to bring to the hospital and health insurance forms.
Five days before Katie is scheduled to be induced, she is visited by Jenni Stark, a family support worker for the Healthy Families program with the Kansas Children's Service League.
She arrives with a video about childbirth narrated with a soothing female voice backed by soft instrumental music. Katie barely blinks as mothers describe the stages of labor.
When it's over, the two talk about who is going to be in the hospital room for delivery, what to bring and the positions Katie could try to be more comfortable during labor.
"Do you have everything all in one place, so that you can just grab and go?" Jenni asks.
The suitcase is already packed with diapers, a Winnie the Pooh snow suit for the baby and a camera.
"Well, it sounds like you got it figured out," Jenni says. "You might need some socks."
But Katie is still working out major details. Katie's dad doesn't approve of Mike, so he isn't allowed in her trailer. It's a rule she hopes will ease when the baby comes. And Katie's modes of communications have practically shut down. Mike's cell phone fell in the toilet, and her Internet connection broke. The two haven't talked for several days.
A baby is born
In the early evening of Dec. 14, Nicolas Cobain Glynos — a 6-pound, 12-ounce baby boy with a tuft of blond hair — enters the world.
Katie's eight hours of labor are relatively uneventful.
Nicolas is cleaned off, weighed and measured. After an attempt at feeding him, Katie holds him in her arms, rubbing his back and patting his head.
"You came today just like I wanted you to," she coos. "I didn't want to have to deal with that all night. You did good."
Sitting in a chair in the corner of the hospital room, Mike looks scared and exhausted. At times he nods off to sleep.
Amid the chaos of the hospital room, Mike's dad pulls him into the hallway.
Don't sign the birth certificate, Brent Stephens tells his son.
It is advice the 18-year-old takes.
Copyright 2018 The Lawrence Journal-World. All rights reserved. This material may not be published, broadcast, rewritten or redistributed. We strive to uphold our values for every story published.