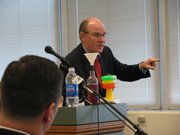 Topeka — A proposal to double wholesale alcoholic beverage taxes and use the increased revenue to help fund services for the mentally ill and developmentally disabled was blasted Friday by liquor industry representatives as unfair.
Tuck Duncan, representing the Kansas Wine & Spirits Wholesalers Association, said he supported the need for increased funding for social services, but said everyone should pay.
"It's bad public policy to earmark taxes, targeting one industry in order to provide something that all Kansans should provide for," Duncan told the House Taxation Committee.
Philip Bradley, representing the Kansas Licensed Beverage Association, said he hoped the state wouldn't pit the liquor industry against the needs of social services and education.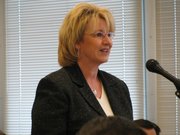 "We're not looking to hurt them. We hope they are not looking to hurt us," Bradley said.
House Bill 2593 would double gallonage taxes, raising $22 million per year, which would be divided between helping community mental health services and providing in-home care for Kansans with severe developmental disabilities.
State Reps. Pat Colloton, R-Leawood, and Kay Wolf, R-Prairie Village, said the tax increase was needed to help offset deep cuts made during the state's budget crisis.
The state grant to community mental health centers has been cut 65 percent and there are thousands of people on waiting lists for services, officials said.
Mike Hammond, executive director of the Association of Community Mental Health Centers of Kansas, said recent cuts have been devastating. "The mental health system is at a breaking point," he said.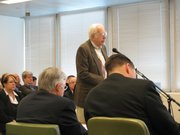 Others testified that people who should be treated for mental illness are being institutionalized and jailed at a much higher cost.
Rick Cagan, executive director of the Kansas chapter of the National Alliance on Mental Illness, said, "Untreated mental illness has deadly and costly consequences."
Liquor industry representatives didn't disagree with the need for more funding, but said increasing gallonage taxes would hurt liquor stores and send many Kansans to buy in Missouri which has lower taxes.
Linda Langston, owner of Eudora Wine & Spirits, said the increased taxes would be a hardship on her customers. "My customers are not wealthy," she said.
The Taxation Committee took no action on the legislation.
Copyright 2018 The Lawrence Journal-World. All rights reserved. This material may not be published, broadcast, rewritten or redistributed. We strive to uphold our values for every story published.