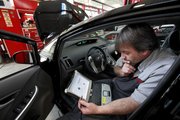 Detroit — Investigations into whatever is lurking behind Toyota's crisis of quality have put a spotlight on all that can go wrong with auto electronics — the growing number of wires, sensors and computer chips that have profoundly changed the automobile in the last decade.
Though no smoking circuit has been found, a picture is emerging that shows the automobile industry's technology is racing ahead of quality-control testing and regulators. It's troubling not only for Toyota owners but for drivers of any modern car.
Toyota insists that electronics played no role in the unintended acceleration that sparked its recalls. Lawyers, regulators, engineers and politicians aren't so sure.
The auto industry has been moving at Pentium speed since the late 1990s to replace mechanical cables and other devices with computers to control everything from brakes to throttles to power steering. Automakers say electronics have made vehicles safer with devices such as air bags and antilock brakes. It's also made cars more fuel efficient, cleaner and, usually, more reliable.
Still, things can go wrong and diagnosing problems is complicated. Glitches can include buggy software, circuitry that's randomly influenced by electrical interference and shorts caused by microscopic "whiskers" from solder. It can be one or more of these problems, as well as environmental factors — a blast from a heater vent or moisture from the road — that can cause a failure. Age also can be a factor.
"You're looking for a needle in a haystack," said Raj Rajkumar, an electrical and computer engineering professor at Carnegie Mellon University in Pittsburgh.
Drivers complained vehicles accelerated out of control — without stepping on the gas. But complaints were dismissed by Toyota, its dealers and government regulators, who blamed mechanical problems or drivers stepping on the wrong pedal.
Toyota, which until recently had a reputation for being high-quality and cutting-edge, began replacing mechanical accelerators with electrical ones starting with the Camry in 2002. Since the 2007 model year, all its cars have been equipped with the high-tech throttle.
An analysis of complaints by the auto safety research firm Quality Control Systems, found that the number of Toyota "speed control" complaints received by the National Highway Traffic Safety Administration tripled since electronic throttles were introduced. NHTSA says 34 people have died because of sudden acceleration crashes in Toyotas since 2000.
But the issue didn't get much attention from Toyota until an off-duty California Highway Patrol officer and three members of his family were killed when their loaner Lexus sped out of control and crashed into traffic near San Diego. The Aug. 28 crash received widespread media coverage.
Just more than a month later, on Oct. 5, the automaker recalled 3.8 million Lexus and Toyota models in the U.S. because of floor mats. In January, it recalled 2.3 million because of sticky accelerators. So far, more than 8 million vehicles have been recalled worldwide to replace floor mats or fix pedals.
Copyright 2018 The Associated Press. All rights reserved. This material may not be published, broadcast, rewritten or redistributed. We strive to uphold our values for every story published.