Photo Gallery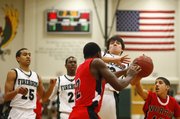 Free State boys vs. Shawnee Mission North
Photos from the boys basketball matchup between Free State High School and Shawnee Mission North on February 23, 2010.
By his own account, Josh May got plenty of touches in the Free State boys basketball team's matchup with visiting Shawnee Mission North on Tuesday night.
Of course, the senior center wouldn't have complained if the ball had made its way into his hands a few more times, too.
"I'm a post player," May joke. "I always think I can get the ball a little more."
The senior made the most out of what he did get Tuesday, breaking out of a recent slump to finish with 13 points — a handful of which came on second-chance opportunities — and seven rebounds to propel a Firebirds offense that, with the exception of some early-game turnover issues, played superbly in a 63-58 Senior Night victory over the visiting Indians.

May, fellow senior Ryan Scott and Eric Watson combined to score 42 points on 18-of-28 shooting, and the team shot 54 percent from the field (compared to just 35 percent for SM North) while getting the ball inside and finishing at the rim — something that hasn't always been the case this season.
"I think we're really starting to click," said senior Bo Schneider. "We've got to cut down on turnovers, but we're really playing pretty well right now."
The victory, meanwhile, proved especially meaningful for a senior class that will depart the program having faced no shortage of adversity during its tenure at the school.
Last year, after winning their first game, the Firebirds didn't win another the rest of the season, finishing 1-20 in what Firebirds coach Chuck Law has regularly described as a trying period for his players.
"I was really happy for those seniors," Law said. "Those guys have been through a lot. Winning one game took a toll on these kids, and it took a toll on their psyches. This was a game we lose last year, but we've been able to win some of these close ones this season."
Still, the game wasn't without a good dose of sloppiness.
The Firebirds turned the ball over nine times in the first quarter alone and 14 times in the first half — "I think we set the game back a couple of years tonight," Law joked — and despite holding an 11-point lead in the game's final minutes, Free State allowed SM North to fight back to within four in the final two minutes, thanks largely to the play of Indians guard Lloyd Young IV, who scored 11 of his game-high 23 points in the fourth quarter.
The Firebirds held tough, however, connecting on 9-of-15 free throws down the stretch to hold off the Indians' comeback attempt and enter Friday's regular-season finale against rival Lawrence with an 8-11 record (4-6 in the Sunflower League).
"It was ugly at times," said Schneider of Tuesday's game. "But we'll take a win any way we can get it."
Free State will take on Lawrence High at 6 p.m. on Friday at LHS.
Copyright 2018 The Lawrence Journal-World. All rights reserved. This material may not be published, broadcast, rewritten or redistributed. We strive to uphold our values for every story published.