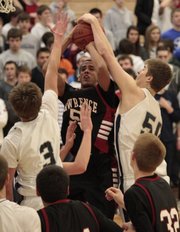 Overland Park — Talk about a lost weekend.
Lawrence High's struggling boys basketball team sank to a season-low 35 points in a Friday night loss at Olathe Northwest.
Then on Saturday night, the Lions plunged even lower in bowing to Blue Valley North, 53-32, in the Mustangs' gym.
"After Friday night, we talked about a fresh start for the remainder of the season," first-year Lions' coach Mike Lewis said, "and my pregame speech did not lead them in that direction."
Just as they did in Friday's 39-35 loss at O-Northwest, the Lions stumbled into an early hole, lagging 15-4 after the first quarter as the Mustangs ended the frame on a 13-0 run.
The only opportunity the Lions had for a comeback occurred right after intermission, when the Mustangs missed their first seven shots, and Lawrence cut the deficit to seven.
But then the Lions' arctic shooting resumed, and BV North (12-7) left them in a cloud of dust.
"(BV North) missed those shots," Lewis said, "but we couldn't capitalize on that."
Lawrence (4-14) would make only 11 of its 40 shots — a sub-arctic 27.5 percent — and lose for the sixth time in its last seven outings. Too, the Lions weren't much better at the free-throw line, making only seven of 17.
"We couldn't put the ball in the basket," Lewis said. "We're in a shooting slump. There's no beating around the bush. We're playing pretty bad right now."
Senior Marcus Ray led the Lions with 14 points, but it took five of his teammates to compile the other 18.
On the horizon is resumption of Sunflower League play and a date with powerhouse Leavenworth on Tuesday night in the Lions' gym.
"It's really between our ears right now," Lewis said. "We're young, and we have all the excuses in the world, but we HAVE to come out and play better. We have to step up and put the ball in the basket."
Copyright 2018 The Lawrence Journal-World. All rights reserved. This material may not be published, broadcast, rewritten or redistributed. We strive to uphold our values for every story published.