Photo Gallery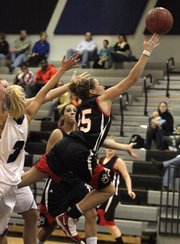 LHS girls vs. Olathe Northwest
Photos from the LHS girls basketball contest against Olathe Northwest on Friday, February 19, 2010.
Olathe — When the Lawrence High girls basketball team's shot are falling, it can make for a long night for opponents.
When they aren't, things can go the way they did Friday against the Olathe Northwest Ravens.
The Lions converted just 6-of-26 field-goal attempts to start the game and couldn't overcome a 20-15 halftime deficit in falling, 49-37, for the first time in their past three games.

"Unfortunately, we rely on making perimeter shots, and tonight they weren't going in," LHS coach Nick Wood said. "We talked to the girls about attacking the basket, but we weren't doing that until the fourth quarter."
Despite the shooting woes, the Lions led 8-5 after one quarter and looked to be in control early against Olathe Northwest, a team coached by former Kansas University basketball walk-on Joel Branstrom, who made national news earlier this year by sinking a blindfolded half-court shot that eventually earned him tickets to this year's NCAA Final Four.
But the Ravens (7-11, 4-5) combined to hit six three-pointers in the second and third quarters and turned the ball over just six times in the second half to pull away.
Haley Parker finished with a team-high 13 points, and Jordyn Tolefree added 10 for the Lions, who fall to 7-11 overall and 4-4 in the Sunflower League heading into Tuesday's home matchup with Leavenworth at 5:30 p.m.

Copyright 2018 The Lawrence Journal-World. All rights reserved. This material may not be published, broadcast, rewritten or redistributed. We strive to uphold our values for every story published.