Photo Gallery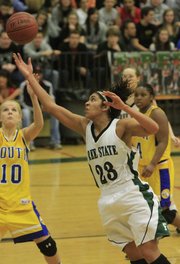 Free State girls vs. Olathe South
Photos from Free State girls basketball's Senior Night matchup against Olathe South on Friday, February 19, 2010.
If you think Olathe South's boys basketball team is good, you should see the Falcons' girls.
After a twinbill sweep of Free State on Friday night, O-South ran its combined record to 33-1.
The O-South girls remained unbeaten (17-0) with a 58-41 triumph over the Firebirds, while the boys climbed to 16-1 with a 55-45 triumph in the nightcap.
In the girls game, the Firebirds (11-7) never led, falling behind 11-2 early and never coming closer than four points the rest of the way.
It was Senior Night for the girls — the boys will celebrate their Senior Night on Tuesday against Shawnee Mission North — and Chantay Caron contributed a game-high 23 in her penultimate game in the Free State gym.
But only three other Firebirds scored, including freshman Kennedy Kirkpatrick, who netted six points in only her second varsity game. Meanwhile, three O-South (17-0) players scored in double figures.
"They were good, and they came to play," Free State coach Bryan Duncan said of the Falcons. "Their pressure defense created a lot of havoc for our guards."
O-South forced 21 turnovers and shot a sizzling 48.9 percent (24 of 49).
"I don't think we played poorly," Duncan said. "We just lost to a very good basketball team."
Copyright 2018 The Lawrence Journal-World. All rights reserved. This material may not be published, broadcast, rewritten or redistributed. We strive to uphold our values for every story published.