On the street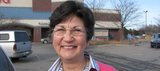 Yes, I would, because I have a hard time taking stuff to the recycling center … I wouldn't want to pay an exorbitant amount.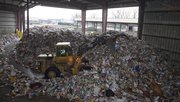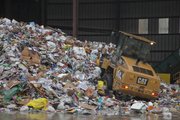 Less than a month after city commissioners said they were content to leave the future of curbside recycling to private industry, the largest recycler in the Midwest has announced plans for an aggressive program in Lawrence.
Kansas City, Kan.-based Deffenbaugh Industries announced Friday that it will begin offering a weekly curbside recycling program for $4.95 per month, and will not require customers to do any sorting of their recyclable materials.
"We're going to come in here with a single-stream system, which means we're going to provide a 65-gallon cart, pick it up on the same day of their trash service, and we'll do all the sorting here at our plant," said Tom Coffman, senior vice president with Deffenbaugh.
The program is scheduled to begin on March 16. The system will allow customers to recycle most common items — Nos. 1-7 plastics, aluminum, cardboard, chipboard, steel cans, newspapers, catalogs, and mixed office paper — but not glass.
The $4.95 per month rate — which does not require a contract — is less than half of what other private curbside companies in Lawrence are charging for weekly pickup. That has representatives with some of the five private companies operating in Lawrence wondering whether Deffenbaugh's program is part of a longer-term strategy to convince the city to let it operate the municipally run trash service.
"The only thing I can see is that they ultimately want to start picking up the city's trash, too," said Traci Trent, an owner of Tree Hugger Recycling. "We'll keep on trying to make our business work, but we're so small and they are so big. I think this will cause more people to recycle, and that is great. But it does have a little bit of a sting to it."
Lawrence will be the only city that Deffenbaugh offers a curbside recycling program in without also providing trash service. But Coffman said Deffenbaugh hasn't had discussions with the city about taking over the trash service.
"That would have to be something generated by the city," Coffman said. "From everything we know, the city does a great job of hauling residential trash."
City Commissioner Mike Dever said he was pleased to see more activity in the Lawrence market. He said Lawrence likely was benefiting from the fact Deffenbaugh already has invested in a multimillion-dollar sorting facility for its recylables. The $4.95 per month cost is significantly less than what the city estimated it could provide a service for.
The facility, in Wyandotte County near the Kansas River, sorts and bundles the recyclables and then sells them to manufacturers across the world. Coffman said much of the material is sold to China, where it is used in everything from containers to clothes.
The new curbside service — like the others — is completely voluntary. But Coffman said he expects the service will help the city increase its recycling rate.
"Our experience has been that when you have an effective single-stream system available, your volume of recyclables just goes through the roof," Coffman said.
Copyright 2018 The Lawrence Journal-World. All rights reserved. This material may not be published, broadcast, rewritten or redistributed. We strive to uphold our values for every story published.