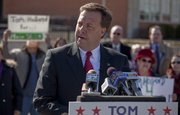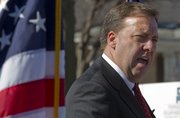 -->
Topeka — Touting his experience as a businessman and legislator, state Sen. Tom Holland on Wednesday kicked off his underdog campaign for governor.
"I lead through listening, and I am the only candidate who can put politics aside and bring people together — Republicans, Democrats and proud Independents," said Holland, a Democrat from Baldwin City.
In his announcement speech, Holland emphasized his background as a small businessman who saw problems with state government and "answered the call" to represent his neighbors. In doing so, he defeated two incumbent Republicans, first in the House and then in the Senate.
He said his experience in the Legislature will help him solve the current budget crisis.
Holland said the lead Republican gubernatorial candidate, U.S. Sen. Sam Brownback, has been part of a divisive Washington culture where partisan politics and lack of fiscal restraint led to policies that created the recession.
"Enough is enough," said Holland. "We've seen the Sam Brownback way. During his 16 years in Washington, we've seen nothing but more debt, more gridlock and more partisanship. We won't solve today's challenges by bring Washington's problems to Kansas," he said.
Brownback's campaign issued a one-sentence response "regarding the Democrat gubernatorial announcement."
Sherriene Jones-Sontag said, "Senator Brownback remains focused on growing our economy and creating good jobs in Kansas."
Joe Aistrup, a political science professor at Kansas State University, said Holland faces an uphill struggle. Holland has little name identification outside his senate district, and he will face a well-financed Brownback, Aistrup said.
"It's not outside the realm of possibility, but it's a long shot," Aistrup said of Holland's chances.
Holland's entrance into the campaign follows decisions by better-known Democrats to skip the likely contest against Brownback, which is just nine months away.
Gov. Mark Parkinson, who came into office when former Gov. Kathleen Sebelius was selected to run the U.S. Department of Health and Human Services, decided not to run for election. Kansas Democratic Party Chairman Larry Gates also considered running but took himself out of contention. Retired businessman Tom Wiggans, who only recently moved to Kansas, jumped into the race with Gates' blessing, but then bowed out after news reports about a legal settlement involving his drug company raised questions.
Holland has a history of being a hard-working legislator and campaigner. His announcement Wednesday, consisted of a 6-minute speech, and then he took some questions from the media.
About 75 people attended the event, which was held outside, across the street from Lowman Hill Elementary School.
Holland's campaign assistant said the location was chosen to emphasize Holland's support of public schools. The location also is about one block from a church that Brownback attends. In the crowd were several state legislators, their staff, and party officials. Attorney General Steve Six was the only statewide official at the announcement.
In 2008, Holland defeated incumbent Republican Roger Pine for the state Senate seat. In 2002, he defeated incumbent Republican Ralph Tanner for a House seat.
Both House Democratic Leader Paul Davis of Lawrence and Senate Democratic Leader Anthony Hensley of Topeka issued news releases praising Holland.
"Tom Holland is an independent voice for the people of Kansas," Hensley said. Davis also criticized Brownback's attendance record in the U.S. Senate when he waged an unsuccessful campaign for the Republican nomination for president.
"Faced with a devastating budget crisis, Kansas needs a governor who will be at work early and stay late fighting for struggling families. This is not the type of work ethic Sam Brownback has ever demonstrated amid his perpetual campaigns for higher office," Davis said.
Holland's senate district includes part of Douglas County, all of Jefferson County and Leavenworth County, except the cities of Leavenworth and Lansing. It covers the northern third of Lawrence and the communities of Baldwin City, Basehor, Easton, Eudora, Grantville, Linwood, McLouth, Meriden, Nortonville, Oskaloosa, Ozawkie, Perry, Tonganoxie and Valley Falls.
Holland is owner and president of Holland Technologies Inc., an information technology consulting and professional services firm. He and his wife, Barbara, have four children.
The Kansas Republican Party was dismissive of Holland. Ashley McMillan, executive director of the state GOP, said Holland was likely "a precursor to the real Democratic candidate who will emerge in a few months."
Holland responded saying, "I'm in this race to win. Sam Brownback may think this race is won, but the people get to decide who will lead the state through this budget crisis -- a career, Washington politician or a problem-solver with real business experience."
Two other Democrats have said they are running in the Aug. 3 Democratic Party primary. They are Herbert West III of Paola, who lost a sheriff's race in Miami County in 2008, and Marty Mork of Wichita, an unsuccessful congressional candidate in 2004 and 2006.
Kansas Democratic Party officials have thrown their support behind Holland.
In a news release, Kenny Johnston, executive director of the state Democratic Party, said of Holland, "Tom is a problem solver who has a record of bringing people together."
Copyright 2018 The Lawrence Journal-World. All rights reserved. This material may not be published, broadcast, rewritten or redistributed. We strive to uphold our values for every story published.