Photo Gallery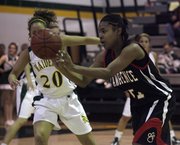 Lawrence High girls vs. Shawnee Mission South
Overland Park — Lawrence High girls basketball coach Nick Wood once played in a game where his team made 33 three-pointers in a 60-point victory.
But that was nothing compared with the thrill Wood felt Tuesday, when his team hit 11 treys and knocked off Shawnee Mission South, 42-37, at SMS.
"If you move the ball around you're going to get good looks," Wood said. "And it just so happened that our good looks came from the outside and Cassie (Potter) and Jordyn (Tolefree) knocked them down."
Potter and Tolefree combined to drain 11-of-19 three-pointers on the night. Potter alone drilled seven-of-11.
"We played unselfish tonight, and we really played as a team," she said. "Because of that, when I was open, I decided that I was going to shoot it. And the shots just kept going in."
Good thing, too. The Lions needed every one of them.
"I didn't realize how many three-pointers we hit until I got back and was talking with my assistants," Wood said. "We figured out that we actually only made two two-pointers the entire game."
One came from Shelby Miller early in the third quarter, and the other came from Haley Parker to open the fourth. Other than that, it was all Tolefree and Potter and a few free throws sprinkled in.
The scene leading up to one particular three-pointer — which put LHS up 40-35 with 3:00 to play — was particularly memorable.
With the Lions leading by two, Parker pressured the ball in the backcourt and came up with a steal. As she rolled on the ground trying to protect the ball, Wood called a timeout, which was granted by the official. As soon as the whistle blew, Potter flashed into the picture and received a pass from Parker but could do nothing with it because play had been stopped.
"She most likely had a layup there," Wood said. "But the girls had no issue with the timeout. We settled them down in the huddle, drew up a play to get a three-pointer off of a double-screen and Jordyn knocked it down. Three's worth more than two anyway, so we'll take that."
While the Lions' offense came largely from the outside, their defense was as nasty as it has been all season. LHS (7-9) forced SM South into 20 turnovers — while committing just seven — and snagged 12 steals and forced five or six more tie-ups that led to jump balls.
"When we're guarding man-to-man, we really make it a point to get after it," Wood said. "It's a mentality. And I thought we really did a good job of locking in and guarding tonight."
Potter led all scorers with 22 points, while Tolefree added 12 and Parker chipped in with four. Potter said she thought the momentum they gained from Tolefree's game-winning buzzer-beater last Friday carried over into Tuesday's contest.
"I think this is one of the best games we've played as a team all season," she said. "And I think if we keep playing like this, we could get on a roll and we could be tough to beat."
LHS will look to make it three wins in a row on Thursday, when they play host to Olathe North at 7 p.m.
Copyright 2018 The Lawrence Journal-World. All rights reserved. This material may not be published, broadcast, rewritten or redistributed. We strive to uphold our values for every story published.