Photo Gallery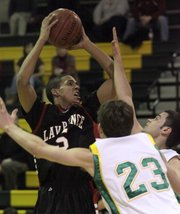 Lawrence High boys vs. Shawnee Mission South
Overland Park — Stop me, if you've heard this one. The Lawrence High boys basketball team plays hard for 25-30 minutes, scraps and claws its way to stay in the game and even enjoys moments of playing with a lead before falling at the end because of inexperience and a few unlucky bounces.
Sound familiar? It's becoming that way for the Lions, who suffered their latest setback, 64-62, at Shawnee Mission South on Tuesday via a tip-in at the buzzer by Dylan Christie.
"The last possession is the one everyone looks at," LHS coach Mike Lewis said. "But there are probably six or seven possessions that happened before that one that put us in that position."
The Lions looked lethargic in the early going and struggled to find their rhythm without regular starter and leading scorer Marcus Ray on the floor in the opening minutes. And South wasted no time feeling sorry for them. The Raiders drained four first-quarter three-pointers and forced the Lions into four turnovers to open the game with an impressive onslaught.
Despite falling behind by as many as 12 — 20-8 — in the opening quarter, the Lions settled into a groove and begin fighting their way back. They closed the gap to six by halftime — 35-29 — then held SMS to just seven points in the third quarter to take a 45-42 lead into the fourth. From there, South's Will Spradling turned it up a notch. Spradling, the silky smooth senior guard who's headed to Kansas State next season, scored nine of his game-high 31 points to open the fourth quarter and gave the Raiders a 51-48 lead heading into the final five minutes.
But the Lions would not go away. Ray, who played just 21 minutes but still scored 15 points, led the charge with five points down the stretch and sophomores K.J. Pritchard (16 points) and Anthony Buffalomeat (eight points) picked up a pair of buckets that left things tied at 62-all with 55 seconds to play.
The Raiders got the ball to Spradling and with a shake and a fake, he rose for a jumper from 15 feet. It fell short, but with two seconds showing on the clock, Christie grabbed the ball in mid-air and tossed it off the backboard and in before coming down. Time expired. The buzzer sounded. Raiders fans went wild.
"It probably hurts a little more to lose it this way," said LHS junior Jake Johnson, who scored four points and grabbed four rebounds in the loss. "It felt really good to come back. We just all stepped up together."
The loss drops LHS to 4-12 on the season. Despite heading home with the disappointment of another close loss, Lewis said he expected his team to remain confident.
"Most coaches, when they're done beating me like that, they say what a good team we have," Lewis said. "And I do think we have a good team. These type of losses make you better and hopefully, we'll start getting things to bounce our way here soon."
LHS will play at Olathe Northwest at 7 on Friday.
Copyright 2018 The Lawrence Journal-World. All rights reserved. This material may not be published, broadcast, rewritten or redistributed. We strive to uphold our values for every story published.