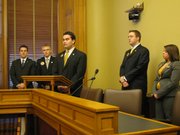 Topeka — Student leaders from regents universities, including Kansas University, were meeting with legislators Tuesday and trying to convey a simple message: "No more cuts."
"We truly just can't take it anymore," said Zach Gearhart, who is student body president at Wichita State University and chairman of the Student Advisory Council.
The students said recent cuts of 12 percent, or more than $100 million to higher education have led to larger classes, fewer course offerings, and and a decrease in campus jobs for students.
Dalton Henry, student body president at Kansas State University, said when students talk with legislators, their reaction has been mixed. He said some have said they will try to raise more revenue for the schools, but with some others "it has been difficult to convey what these past budget cuts" have meant to students.
Because of historic falls in tax revenues, the state has cut $1 billion from its $6.4 billion budget and still faces a $400 million revenue shortfall for the fiscal year that starts July 1.
The student leaders said oftentimes higher education gets the short end of the budget because legislators feel that revenue shortfalls at the universities can be made up through higher tuition. But the students said higher tuition will price some students out of a college education, and cannot make up for all the budget cuts.
Copyright 2018 The Lawrence Journal-World. All rights reserved. This material may not be published, broadcast, rewritten or redistributed. We strive to uphold our values for every story published.