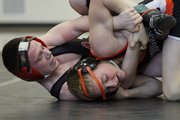 Shawnee — Lawrence High's wrestling team placed sixth, while Free State finished 12th on Saturday at the Sunflower League Championships at Shawnee Mission Northwest.
Lawrence sophomore Reece Wright-Conklin won at 160 pounds for his second Sunflower League title in two years. Wright-Conklin won the 152-pound weight division his freshman season.
"Reece returning as league champion was pretty important," LHS coach Patrick Naughton said. "We had some individuals do a great job today."
Lions freshman Hunter Haralson also placed first, winning at 112 pounds.
"With Hunter, it's really nice for him to stand on top of the award stand, especially being a freshman," Naughton said.
Lawrence's other placers were senior Dustin Walthall (second at 171), freshman Andrew Denning (third at 135), junior Cameron Magdaleno (fifth at 152) and sophomore Brad Wilson (tied for fifth at 215).
Free State's highest placer was freshman Drew Botello, who placed third at 103.
"I'm extremely proud of him," Free State coach Paul Lappin said. "He was bound and determined and went out and took care of business from the very first whistle."
The Firebirds also placed Spencer Chestnut (fourth at 189), Joey Cunningham (tied for fifth at 215) and Ben Soukup (sixth at 119).
Shawnee Mission East and Shawnee Mission Northwest tied for the league title.
Copyright 2018 The Lawrence Journal-World. All rights reserved. This material may not be published, broadcast, rewritten or redistributed. We strive to uphold our values for every story published.