Josh May finished with just one point in the Free State boys basketball team's matchup with Olathe Northwest on Friday night.
That point, however, happened to be the biggest of the game.

In the final moments of overtime, May corralled an offensive rebound, drew a foul and proceeded to connect on his second of two free throw attempts with six-tenths of a second remaining to break a tie game and ensure the Firebirds a 48-47 home victory.
"This is what high school basketball is supposed to be about," said Free State coach Chuck Law afterward. "Friday night, great crowd, guys playing their guts out."
Photo Gallery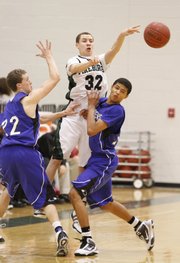 Free State boys vs. Olathe Northwest
It certainly appeared that way.
Unlike their performance in Tuesday's loss to Shawnee Mission South, when they shot just 37-percent from the field and 1-of-12 from three-point range, the Firebirds were a lesson in efficiency, connecting on 21-of-32 field goal attempts — including eight-of-10 in the fourth quarter and overtime.
Multiple players made big plays down the stretch — Eric Watson, Nick Hassig and Matt Ruder all hit shots to either tie the game or give the Firebirds the lead in the final five minutes of regulation — and the evening's offensive outburst proved a welcome development for a team that has struggled recently with consistency from the field.

"We haven't really shot the ball well as of late," said Hassig, who finished with eight points. "It just comes down to making shots. We got a lot of good, open looks tonight, and it's nice to knock them down."
Forward Ryan Scott led the Firebirds with 16 points on 7-of-9 shooting, and Watson added 12 points to pace a Free State offensive performance that, Law hopes, will spark a late-season surge as his team enters the final portion of its regular-season schedule.
"Everybody who set foot on the floor played great tonight," said Law. "And that's what we have to do. We don't have the athletes to go out and blow teams out, truth be told. So we've got to go out there and play good, smart basketball."
Copyright 2018 The Lawrence Journal-World. All rights reserved. This material may not be published, broadcast, rewritten or redistributed. We strive to uphold our values for every story published.