-->
Audio Clips
KU-ISU basketball
KU basketball tweets
Online chat
-->
Photo Gallery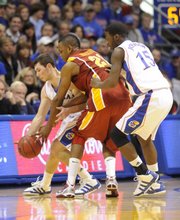 KU vs. Iowa State
FINAL: KU defeats ISU, 73-59
Another missed three for KU, this time from Collins. It's probably fitting that will be one of KU's final possessions.
Marcus and Markieff Morris bungle an alley-oop attempt, but that won't affect the outcome.
KU wins by 14, giving Self his 400th career win.
The coach is awarded a basketball after the game for the milestone.
KU 73/ISU 57 — 1:16 left in game
Aldrich puts in a baseline turn-around over a double-team. A minute later, he cleans up a Taylor miss with a rebound and stickback.
Aldrich has trouble defending Brackins on the perimeter, though, as the ISU forward puts in consecutive threes over KU's center.
Marcus Morris follows with a hard-to-stop move, dribbling the ball into the lane from the baseline before putting in a fadeaway to his back shoulder. Opponents will need to have a quick and long defender to have a chance against a move like that.
Johnson gets a steal, and KU has some showtime after that. Johnson drops a behind-the-back pass to Reed, who lobs it back to Johnson for a layup.
KU follows with more bricks from three. Markieff, Collins and Reed all miss outside shots, and the Jayhawks are just 7-for-26 from beyond the arc (26.9 percent).
KU 61/ISU 41 — 7:38 left in game
Taylor is heating up, as he races down the court, beats his man to the rim, then puts in a layup with a foul. His free throw gives KU a 12-0 run.
Aldrich with an emphatic block on a Chris Colvin layup attempt, and it leads to an uncontested look for Collins. KU's senior guard leaves the layup short, but Xavier Henry is there for the rebound before getting fouled. Two more free throws pushes the run to 14-0.
Hamilton puts in a jumper with 9:19 left to break ISU's drought. The Cyclones went four minutes, 19 seconds without a point.
Collins answers with a quick three on the other end. The Cyclones' lack of legs might be catching up to them.
Marcus Morris misses a short one, but Aldrich piggy-backs on him for a stickback slam.
Taylor dribbles through two defenders, then puts in a short jumper. This game has gone from close to not close very quickly.
KU 49/ISU 38 — 11:09 left in game
Marcus Morris with nice defense on Diante Garrett, going straight up in the air to block a shot. Reed is fouled on a layup attempt, and he hits both free throws.
KU gets a lift after the second free throw, as Taylor comes up with a steal on the full-court press. He finishes with a leaning layup, and the crowd comes to life.
Hamilton has the ball poked away from underneath, and on the other end, Xavier Henry drains a stepback three.
Reed fakes a three, then rattles in a one-handed runner off the backboard. Timeout ISU, as KU has put together a 9-0 run since the last timeout — and has done so with Collins and Aldrich on the bench.
KU 40/ISU 38 — 13:32 left in game
Brackins finishes an alley-oop with a slam, and Collins and Markieff Morris miss consecutive threes. Morningstar follows with another long-range miss. KU is just 5-for-19 from three (26.3 percent), and most of those looks have been open.
Morningstar pokes a pass away, and he finishes on the other end with a layup.
Brackins gets free on an inbounds pass, though, rattling in a three from the corner. Self calls for timeout, and KU's lead is down to two.
KU 38/ISU 33 — 15:52 left in game
Gilstrap opens the second half with a three. KU double-teamed the post, and after helping inside, Xavier Henry was late rotating back to his man. Self doesn't look pleased, slapping his hands together in frustration.
Xavier Henry gets a two to go in with a foul, but Self still isn't happy. He screams at him about his poor rotation on the defensive end, holding up three fingers. I'm assuming that's the number of times Henry has been late getting out to his man shooting a three-pointer.
Hamilton follows a miss with a stickback dunk, and KU isn't getting any separation with its sluggish offensive performance.
KU scoring — X. Henry 8, Collins 8, Marcus Morris 7, Aldrich 5, Reed 3, Markieff Morris 2, Withey 2.
KU was 14-for-32 from the floor (43.8 percent), 5-for-15 from three (33.3 percent) and 2-for-4 from the free-throw line (50 percent).
ISU was 8-for-29 from the floor (27.6 percent), 4-for-10 from three (40 percent) and 6-for-12 from the free-throw line (50 percent).
Craig Brackins had five first-half points on 2-for-9 shooting.
KU out-rebounded ISU, 26-18, in the first half. KU had six turnovers, while ISU had three.
Halftime thoughts
• Think it's tough to shoot from the inside on KU? Consider this: ISU has as many three-point field goals as two-point field goals. The Cyclones made 40 percent of their threes, but just 21 percent of their twos (and Aldrich was on the bench for the final six minutes or so). Aren't two-pointers supposed to be easier to make?
• Great first half for Collins (8 points, four assists, no turnovers). He's been directly responsible for about half of KU's offensive output.
• Another tough half for Tyshawn Taylor (0 points, three assists, two turnovers). Elijah Johnson might get more opportunities if Taylor continues his inconsistent play.
• ISU once again has avoided fouls well with its short bench. The Cyclones had just five whistles, and no Cyclone has more than one foul. Consequently, KU had just four first-half free throws.
• Only six ISU players logged more than one minute in the first half. I think it's why Self was urging his players to pick up the pace. We might see some tired Cyclones down the stretch.
KU 35/ISU 26 — Halftime
Withey blocks an ISU shot after a whistle, and ISU coach Greg McDermott believes it's goal-tending. He motions for an official to come see him, then comes nearly to halfcourt to dispute the call a few seconds later.
Elijah Johnson checks in to a loud ovation at the 1:34 mark. KU has been stagnant offensively as of late, going nearly three minutes without a point.
Marcus Morris misses a short jumper, but he sticks with it, rebounding his own shot before putting in the stickback.
KU holds for the last shot of the half, and Collins breaks Christopherson with a nasty, left-to-right crossover dribble to get to the right side of the rim for an uncontested layup.
The Jayhawks take a nine-point lead into the break.
KU 31/ISU 24 — 3:31 left in 1st half
Aldrich collects a low pass from Collins on an inbounds play, then puts in the layup with a foul. A minute later, though, Aldrich is forced into a bad spot defensively, and he's forced to foul Justin Hamilton. That's two fouls for Aldrich, and he'll sit the rest of the half.
Jeff Withey checks in, and he pulls down a rebound on his first defensive possession.
The 7-footer also shows his offensive touch, taking two steps across the lane before putting in a baby-hook.
Collins follows with a three on the next possession, and it looks like Withey's entry into the game has given a spark to the crowd and KU.
Brackins hits a tough turn-around over two defenders, and Self yells at Taylor to run the ball up the court, swinging both arms while giving the directions.
Jeff Hawkins and Darnell Jackson both receive nice ovations at the media timeout.
KU 23/ISU 19 — 7:50 left in 1st half
Xavier Henry shows more of the toughness we saw last game against Texas, muscling up a shot through a foul and getting it to go in.
Though the score has been close, KU coach Bill Self has remained relatively calm throughout this one. Even after bad turnovers, he's mostly stayed seated on the bench.
Taylor with his second turnover, and he flings his hands out in frustration. He knows what's coming next, as Collins checks back in for the sophomore guard.
Xavier puts in a contested three from the left wing, and Collins finds the hot hand on the next possession, throwing it back to Xavier for a three from a similar spot on the court. The long attempt swishes through, and ISU calls timeout. Collins once again makes a key offensive play for KU without shooting it.
KU gets a steal off its full-court pressure, but Xavier Henry misses the layup in transition.
Marcus Morris tips an ISU pass, but it goes right to Christopherson, who buries a three. The Cyclones are 4-for-7 from three (57.1 percent), and once again, KU is having trouble keeping any Big 12 team from making threes.
KU 15/ISU 14 — 10:59 left in 1st half
Two nice passes net KU four easy points.
Aldrich draws a double-team before finding a cutting Markieff Morris for a slam. The next possession, Collins drives inside before throwing back to Aldrich for a one-handed stuff. Brackins seems a bit miffed at his teammates, smacking the ball especially hard between his hands before inbounding it.
Collins again frees up a teammate, dancing into the lane before tossing a no-look feed to Tyrel Reed for a wide-open three that goes through. Solid game already for Collins, even though most of his contributions haven't been from scoring (three points).
ISU 7/KU 6 — 14:48 left in 1st half
KU double-teams Brackins, but perhaps not as much as it did last game. The Iowa State forward seems to only be getting a double-team when he receives the ball in the post. He was double-teamed almost every time he touched it last game.
Marquis Gilstrap puts in a three for the first points, but Marcus Morris answers with a turn-around fadeway in the lane.
Brady Morningstar blocks a shot from Scott Christopherson, then on the other end, he uses a flashy crossover dribble to get into the lane before kicking out to Sherron Collins for a three. The nice move might have even surprised Morningstar, who grinned on his way back to the defensive end.
Gilstrap puts in a jumper, and Justin Hamilton follows with a slam to put ISU up one. The Cyclones look less overmatched in the lane tonight than they did in the first matchup.
7:07 p.m.
A few more clips of Wilt Chamberlain were added to the pregame video. Wilt's sister is attending tonight's game.
6:21 p.m.
Update: KU officials confirmed that Robinson is sitting out because of a concussion sustained in practice Thursday.
6:15 p.m.
Our pregame chat is open and available by clicking this link or the link in the upper-left corner of this blog. I'll be talking there until gametime.
Just a reminder to use the "Submit a question" link to post a score prediction, to submit a comment or to ask a question.
Today's random question: Which Jayhawk deserves All-Big 12 first-team honors the most?
5:59 p.m.
Welcome back to the Newell Post Live, coming to you from Allen Fieldhouse where the top-ranked Kansas Jayhawks are getting set to take on the Iowa State Cyclones.
First off, the major news: Thomas Robinson is in street clothes during warmups. I'm assuming he has some sort of injury, though I don't have confirmation of this yet.
We'll have our pregame chat later, but for now, let's get to some notes on Iowa State, which enters with a 13-11 record.
• Both Craig Brackins and Marquis Gilstrap battled illness in Iowa State's last game against Missouri.
• Since the KU game, Brackins is averaging 20 points and 10.4 rebounds (five games).
• Brackins had just 13 points on 5-for-13 shooting in KU's 84-61 victory over the Cyclones in the teams' first meeting this year.
• ISU coach Greg McDermott commented after his team's last game against Missouri that his team had put together two of its better defensive performances of the year in a row. The Cyclones allowed 79 points in a high-possession game against Kansas State and 65 at Missouri.
Be sure to vote in our poll on the left, and also use the hashtag #kubball to have your tweets appear in our grid on the left side.
Copyright 2018 The Lawrence Journal-World. All rights reserved. This material may not be published, broadcast, rewritten or redistributed. We strive to uphold our values for every story published.