The Lawrence High girls basketball team led Olathe East for exactly one second on Friday night.
Thanks to Jordyn Tolefree, one second was all the Lions needed.
With the game tied, the senior guard drilled a straightaway 18-foot jumper as time expired to give LHS a dramatic 63-61 victory over Olathe East.
"It felt good going off my hands," Tolefree said. "It was kind of crazy. We were all really excited and wanted to get that win really badly."
What the Hawks didn't know was Tolefree had practiced being in the intense situation numerous times growing up.

Photo Gallery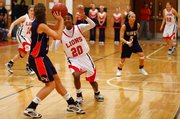 Lawrence High girls vs. Olathe East
"My dad and I have worked on that move for a while," Tolefree said. "We go up to LAC (Lawrence Athletic Club) on the weekends if we don't have practice, and he works with me. That was his signature move."
On the final possession, Haley Parker started with the ball near midcourt and 10 seconds showing on the clock. Parker dribbled off a ball screen, but approached a defender, so she dished to Cassie Potter on the left wing. Potter alertly noticed an open Tolefree at the top of the key. The jumper swished through the net, the Jungle crowd exploded in jubilation and the Lions players jumped around in the middle of the court.
"I was thinking that ball was moving in slow motion," LHS coach Nick Wood said of Tolefree's shot. "Honestly, it looked good. Worst-case scenario, it was going to overtime. Jordyn made a play. It was a great shot, a big-time shot."
Tolefree finished with a game-high 21 points, including 5-of-8 shooting from three-point range. Parker scored 19, Jasmyn Turner pitched in 10 and Potter added nine.
It wasn't a game the Lions (6-9, 3-4 Sunflower League) looked like they would win. The Hawks (9-6, 4-3) led by as many as 16 in the second quarter. Even with 3:26 left in the game, O-East held an eight-point advantage.
LHS went on an 8-0 scoring blitz to tie the game at 57 with 2:21 left. Tolefree and Parker drilled back-to-back threes. Turner then stole the ensuing inbounds pass and immediately put in a layup. Eight points in 25 seconds.
"That was awesome," Parker said. "We all were saying how we had goosebumps thinking about it."
Parker dominated the second half with 17 points, after scoring only two before intermission. On the final possession, when a collapsing O-East defense gravitated toward Parker, the basketball ended up in the hands of the Lions' other hot shooter in Tolefree.
"I couldn't think of any better way to end it," Parker said.
Copyright 2018 The Lawrence Journal-World. All rights reserved. This material may not be published, broadcast, rewritten or redistributed. We strive to uphold our values for every story published.